E-call up system :
Trucks Transit Park records landmark achievements in one year
* Applauds NPA, Lagos State government on implementation of Eto
* NPA calls for specific channel on exports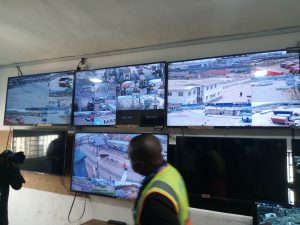 The Trucks Transit Park Limited (TTP), operators of the Electronic Call- up system introduced by
the Nigerian Ports Authority (NPA), in February 2021, has made landmark achievements in managing the traffic logjam at Apapa ports roads in the last one year.
Before the deployment of Electronic Call- up system technology, also known as Eto, the chaotic traffic situation in Apapa was a huge crisis that crippled businesses within Apapa axis, making access to the nation's seaports almost impossible. Series of interventions made by the Federal Government to tackle Apapa traffic gridlock failed, even the Presidential Task force on Apapa traffic could not remedy the situation.
Only one year after deployment of Eto technology by NPA, the perennial traffic crisis at Apapa ports access road, which seemed to have defied all solutions has disappeared. The Eto App has succeeded in bringing sanity to the ports access roads. This has paved the way for commercial and recreational activities to return to Apapa.
The Company behind the success story of traffic management at Apapa ports corridors is Trucks Transit Park Limited. This is the Company that developed the E-call up technology being implemented to control movement of trucks in and out of the ports.
In the last one year, TTP has worked in synergy with NPA, Lagos State government and maritime transport community to reduce traffic congestion within the ports access corridors, by ensuring orderly movement of trucks to the ports terminals and factories in Apapa.
Our news inquest revealed that despite the successes recorded so far by Eto, TTP is still working assiduously to improve on the platform, in order to enhance efficiency in the system.
For instance, there is free movement of trucks from Mary-land up to Surulere axis. Also, from the popular Onyingbo market linking to Ijora inter-change, up to Area-B and Apapa wharf gate are equally free.
Addressing Journalists during the one year anniversary organised by TTP to assess its performance in 2021 and to look at areas where greater attention can be given to improve on service delivery, the Managing Director of the Company, Mr. Jama Onwubuariri said their targets are efficiency, timeliness, increase in automation and customers' satisfaction.
His assertions :
"Technology is what drives the entire process of Eto. Since 2021 till now, TTP has been carrying out massive awareness drive to enlighten stakeholders on the usefulness of Eto. The last one year has been work in progress.
"As we go into the second year, we see a brighter future for the services of Eto with deeper technology penetration. We thank NPA, Lagos State government and all stakeholders for making the E-call up system a huge success.
We will continue to improve on our operations to reduce human interface and eliminate manual processes in managing movement of trucks within Apapa.
"Going forward, we can do better than what we achieved last year with the active support of our partners. Our aim is to increase automation and ensure less human involvement in the process of admitting trucks into the seaports."
He revealed :
"Also, our future plan is to move from a system of showing your ticket to someone at the port gate to a stage where you can physically come off your truck and punch in your ticket code to gain access; or to use equivalent of e-tags in accessing the ports and truck parks without any manual process.
"Recently, TTP implemented terminal request procedure to ensures that port terminals provide us electronically with the number of containers for exports and empties that they are expecting at their terminals from the shipping lines".
Mr Jama informed :
In terms of throughput efficiency, trucks can now access the ports in 90 hours. Before deployment of Eto, it used to take trucks about three weeks to enter the ports. The cost of haulage, which used to be very high has equally reduced to average of 65 percent in the last one year."
On the challenges facing Eto App, the Managing Director mentioned indiscriminate parking of trucks along the ports access roads in search of terminal delivery order, inadequate road infrastructure and multiple check points. He said that TTP is working with NPA to sanction erring truck drivers parking on road sides.
According to him, TTP is seeking intervention of the State government and Transport Ministry for removal of illegal checkpoints along the ports axis.
Speaking on the operational statistics, a top official of TTP, Mr. Richard informed :
"Our operational statistics, from February 27, 2021 till date shows that we have 9,563 registered users on the E-call up platform. So far, we have processed 592,750 trucks and we have about 83,531 registered trucks on Eto platform, as well as 55 approved parks for trucks".
In his remarks, the Chairman, implementation Committee on Eto, a representative of NPA, Mr. Ayo Durowaye, commended TTP on Eto App, stressing that the E-call up system has eased traffic along the ports corridors.
He advised TTP to evaluate the system thoroughly and address internal issues to ensure regular interaction and feedback from the users.
"He called for the creation of specific channel for exports, in line with the policy of government in economic diversification into Agriculture and non oil exports".
Also speaking, the representative of Lagos State government, Mr Shola Giwa called on all stakeholders to cooperate and give TTP maximum support for sustainability of Eto's platform.
More so, TTP unveiled its new Logo in celebrating the momentous milestones in one year. The new Logo tells a story of TTP and positions the Company to align with its corporate goals, to create economic value using technology.
The programme culminated in facility tour of the Company.
Observation :
During the facility tour, our Correspondent observed that TTP has a well equipped Control-room where movement of trucks within the ports corridors is being monitored. From the Control-room, Eto App enables you to view the movement of trucks along JOF -Obanikoro; wharf gate; TinCan 1 & 2; Lilypond 1 & 2; MOB park and other places.
The programme, which also featured a brief documentary was coordinated by Mr Bolaji Akerele.
About Post Author