Shock, Anger, condemnation : As Western Marine Customs hands over N62.3million killer drugs
Western waterways is no go area for smugglers – DC Ochiba roars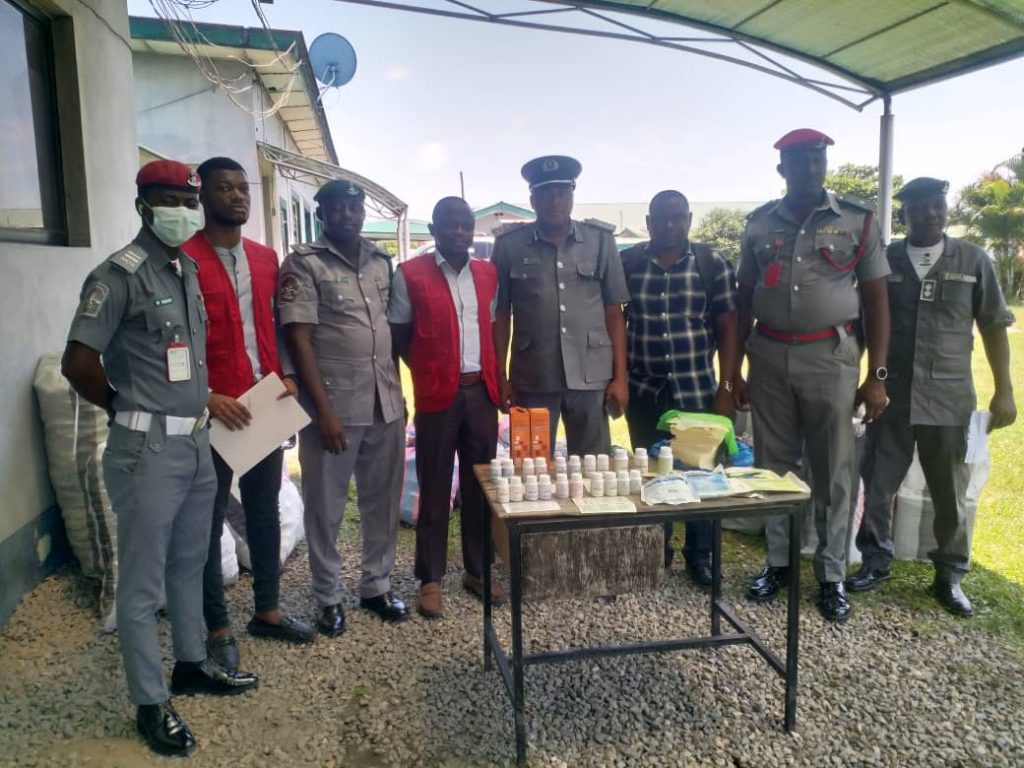 It was in deed a moment of shock, anger and total condemnation at the Western Marine Command (WMC), yesterday, when the Customs Area Controller (CAC), DC Enonche Ochiba, handed over the killer drugs worth over N62.3million in monetary value to NAFDAC officials.
While some Customs Officers around displayed anger and condemned in totality the deliberate attempt by smugglers to kill innocent citizens with expired drugs, others were so astonished at the level of callousness and what can be described as man-inhumanity-to-man !
Even NAFDAC officials, who were at the Command to receive the killer drugs expressed so much amazement when the bags of drugs were displayed in the open.
Our Correspondent observed that even the Area Controller himself
could not hold back his displeasure at such level of cruelty, as he kept staring at the bags of drugs and frowning throughout.
The anger was really conspicuous on his facial expression, speech and gesture.
In fact, the killer drugs were so many and packed in different sacks. The seized drugs had expired since 27 April 2017, about four years ago, but were smuggled into the country illegally.
DC Ochiba and his men swiftly intercepted the drugs through a high level of Intelligence.
With their Eagle-Eye, they saved the Nigerian nation from what would have caused a major health disaster, if such large quantities of killer drugs had entered into the local markets unchecked.
The significance of this seizure is that the smugglers printed new labels showing new manufacturing Date of April 29, 2021 and expiring Date of August 28, 2024, in order to replace the expired labels and sell the drugs. But luck ran out on them, as the items were seized along with the printed labels, as shown on the pictures.
Speaking, the CAC roars, "The Western waterways is no-go-area for smugglers and economic Saboteurs.
Our officers are vigilant and will do everything to bring them down.
" The drugs were intercepted by our patrol team while on credible intelligence along Abumbum-Ojo waterways, precisely on Wednesday September 15, 2021 at about 0020hrs. During physical examination we found out that the drugs expired since 27 April 2017 and uncertified by NAFDAC".
The expired drugs include 817 Bottles of B-Vital; 1,158 Bottles of Kordy-capsule; 3,110 Bottles of Double Ginseng; 619 Bottles of Detoxin; 607 Bottles of B-care; 198 Sachets of Ninhuang Jeedu pian; 1,200 Sachets of St Formula; 475 Bottles of Apetamin Syrup;
7 Bottles of Spinsure Table;17 Bottles of Danshen Plus;
7 Bottles of Arthro capsule; 13 Bottles of Spinsore Pill; 123 Bottles of Chitomeal.
Other seized items were bundles of printed labels of Double Ginseng with Batch no. DG 04021, MFG Date: 29042021 and expiring Date of 28042024.
The CAC stressed :
"The seizure contravened Schedule 3 Revised Import Prohibition List (Trade) item 14 Waste Pharmaceutiques. These are expired, unused and contaminated pharmaceuticals which if not intercepted by our operatives would cause havoc to the society in general.
" The smuggler intended to replace the expired labels with labels carrying new manufacturing and expiry date as it can be seen on the bundles of printed labels of Double Ginseng accompanying the seized consignment.
" This seizure shows the desperation of smugglers to acquire wealth without considering the health implication of these expired drugs on the society.
"It is in the spirit of inter-agency collaboration that I am handing over the seized expired drugs to the Director, NAFDAC Investigation and Enforcement as directed by the Comptroller General of Customs.
" Let me warn unscrupulous elements to desist from smuggling because smuggling is a serious crime, when left unchecked would have a negative effect on our economy. I want the smugglers to know that operatives of our Command would leave no stone unturned until they meet their waterloo."
The NAFDAC official, Mr
Yahaya Abdulmajeed, with Investigation and enforcement department, who received the items applauded the Command for the spectacular seizure.