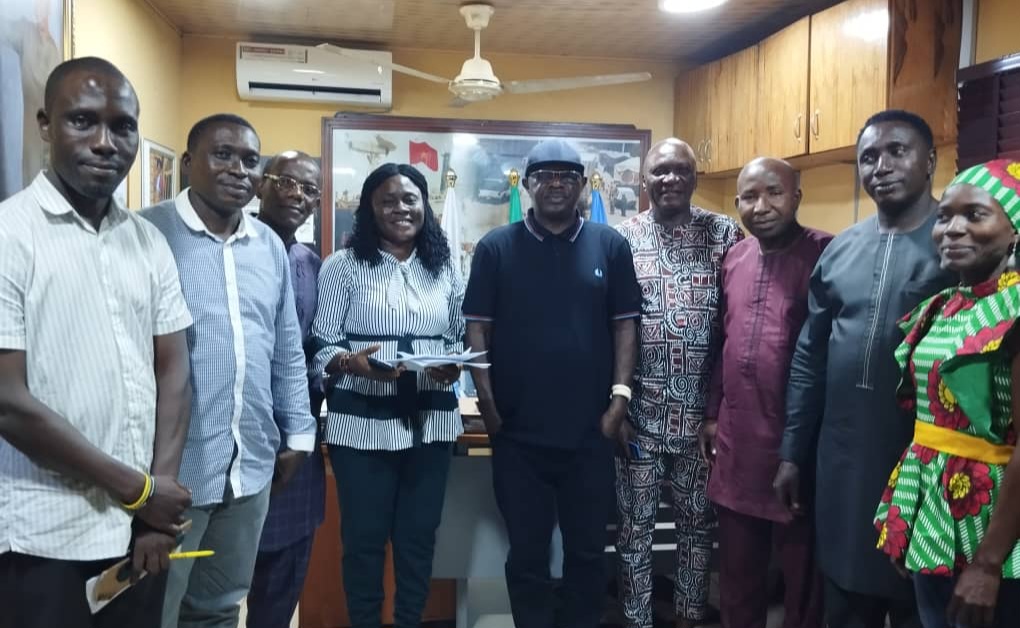 MAJAN Roundtable : 
NAGAFF Founder, Dr Aniebonam speaks on outrage over increase in terminal charges, reversal of forex ban on 43 items, others
…Tasks CGC Adeniyi on power delegation to Zonal Commands 
The Founder, National Association of Government Approved Freight Forwarders, NAGAFF, Dr. Boniface Okechukwu Aniebonam, has called on Nigerian Shippers' Council (NSC) to immediately convene a meeting with stakeholders and terminal operators to deliberate on the face-off between Freight Forwarders and Terminal operators on the sudden increase in terminal charges, to prevent conflict in the port system.
Dr Aniebonam gave this advice when speaking with Maritime Journalists Association of Nigeria (MAJAN), during a Roundtable talk-show, held
on Friday, October 20, 2023, in Apapa.
Dr Aniebonam while responding to questions on the outrage by freight forwarders over excessive increase in terminal charges to over 350%, appealed to freight forwarders and maritime traders for calm, calling on NSC as the regulatory authority to urgently intervene, in order to avoid chaos in the port system, especially with the challenges facing the nation's economy at the moment.
Speaking further, Dr Aniebonam emphasised the need for terminal operators to always seek for approval on any proposed increase on charges from appropriate regulatory authority in the transportation ministry. Also, the terminal operators should carry out wide consultation with stakeholders involved before making official pronouncement.
This, he said is important to prevent conflict in the industry. To him,
consultation and dialogue are useful at all times, for all stakeholders to be on the same page.
Speaking further, Dr Aniebonam called on the Comptroller General of Customs, CGC Adewale Adeniyi MFR, to empower Zonal Commands nationwide and make them functional to address trade disputes, to ensure seamless operations.
His assertions : "Going forward, the zonal commands of the Customs must be operational, if we want to discuss issues of trade facilitation, making operations to be seamless, having access to resolving trade matters, I expect the new CGC to devolve powers to the zones. Delegating powers to the Zones to handle trade matters and resolve disputes will fast track trade facilitation in the nation.
"I will advise the CGC to focus more on formulation of policies, training and retraining of officers to understand the language of Customs, international relations, welfare of officers and men of the Service. CGC ADENIYI should move away from operations and allow the Commands to take charge, because it's more convenient for freight forwarders to take trade issues to Zonal commands to resolve, than traveling to Abuja always, even considering the security threats in the country."
Dr Aniebonam emphasised :
"The zones are manned by ACGs who are already in the bracket of being appointed as the CGC. I believe the new CGC is working on it.
"Note that in delegating powers to the Zones, the CGC has the residual power to reverse any decision taken that is not right; or in tandem with the right procedures."
Dr Aniebonam, who is also known as the Freight Forwarder General of the Federal Republic of Nigeria, said :
"The CGC must trust ACGs at the Zonal Commands. The must be trust in the system. Anything you are doing without trust, there is a problem. The headquarters of Customs must also
trust Area Controllers at various Commands to do the needful, while keeping an eye on them".
He enthused :  "CGC Adeniyi is an international Customs officer, Nigeria couldn't have gotten someone better than a career officer like Adewale Adeniyi.
"Coming into office, from day one, he took off, running the basic things he knew were going wrong but didn't have the opportunities to correct. Take for example, the Customs strike force. The strike force was an ad-hoc arrangement, an intervention force to correct a particular ailment. It shouldn't have lasted more than 3 months; or at most 6 months and returned back to the base. A great decision taken by the new CGC was disbandment of StrikeForce and the port operators are grateful for that".
He added : "The Customs Boss must ensure that appropriate customs duty assessment on imported goods coming into the country follow standard operating procedure. Imports at present are being over-valued for customs purposes".
According to him, emphasis by Customs on meeting alloted revenue targets is detrimental to trade facilitation, as well as compliance to import and export regulations, as Customs focuses more on revenue collection than trade facilitation capable of stimulating economic growth and job creation.
His words : "Don't benchmark cargo. Revenue is a function of trade policy, cost, insurance and freight when calculating the duty. What does it take to conduct customs examination looking at section 27, the Bill of sight.
"The former Governor of Central Bank of Nigeria (CBN), Mr Godwin Emefiele destroyed the nation's economy with the ban on forex for importation of rice and other 42 items. Delisting those items was technically banning importation of such goods.
"This is because every import coming into Nigeria must have Form-M for statistical purposes. What this means is that, if you do not have form 'M' registered for a product, the Customs will not be in a position to issue you Pre-Arrival Assessment Report, PAAR.
"You see the confusion Mr Godwin Emefiele created in the system ! Emefiele, who is not conversant with Customs laws issued that Executive Order in ignorance, without due consultation with Nigeria Customs Service for professional advice. He acted in lack of knowledge and undue arrogance, he destroyed the economy.
"Hope is alive. Thanks to President Bola Tinubu for his wisdom in reversing that Order. With the
lifting of ban on these 43 items, compliance level will increase in making declaration for customs purposes.
"Section 27 treats matters of incomplete documentation. The Customs law tells you what to do, that brings in issue of penalty. The Customs helps in that regard because the subject matter is trade. You see, Customs are the most patriotic citizens, but the implication is that, you are at the mercy of Customs to do your business. Your cargo can be seized under false declaration, or concealment."
On the creation of Ministry of Marine and Blue Economy, the Founder described it as a welcome development, stating that the initiative will pave way for Nigeria to harness enormous resources abound in that sector for the betterment of the entire economy.
Dr Aniebonam stressed that Nigeria has a lot to benefit from the new ministry, if measures are put in place to ensure appropriate implementation of policies mapped out to grow the sector.
However, he advised the Minister of Marine and Blue Economy to look at aspects of ship repairs, ship building, opening up inland waterways, tapping into the Cabotage law for Nigeria to have national carrier and other areas of specialisation.
On the recent visit to NAGAFF headquarters by AIG Zone – 2, Mohammed Ari Ali, he commended the AIG, describing him as a disciplined and intelligent Police officer, who is always concerned about professionalism on the line of duty and safeguarding national security.
Dr Aniebonam maintained that Police has general powers of arrest to protect lives and properties, as enshrined in the Constitution. However, he advised; "Marine Police officers should focus on issues of national security and not bother on Customs duties."
He said, the AIG has been exemplary since he was a Divisional Police Officer (DPO) at Area -B Command, until he rose through the ranks to his current position, that his subordinates working within Apapa port corridors should toe similar line of professionalism in carrying out their statutory responsibilities.