NIWA Lagos Gets New Police Area Commander, 7 Officers Promoted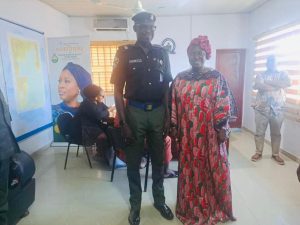 The Lagos Area Manager, National Inland Waterways Authority ( NIWA), Engineer Sarat lara Braimah, on Thursday , officially received the Lagos Area Police Commander of NIWA, Mr Waziri Abbas, a Superintendent of Police.
In a brief ceremony in her office at CMS waterfront, Engineer Sarat Braimah also decorated seven newly promoted NIWA Police officers, who now wear new ranks of Assistant Superintendent of Police.
Adorning the officers with their new ranks, assisted by the new Police
Area Commander, Mrs Braimah, stated that she was happy for the recognition and promotion of the officers. She enjoined them to work harder, to secure the waterways and provide enabling environment that will put the minds of clients of NIWA at rest.
Promising to collaborate and engage the Police team to deliver on its mandate, Braimah urged the new Police Commander to feel free to share their challenges with her office, noting that she operates an open door policy.
" It is double celebration for the area office under my watch. I am most pleased to welcome the new Police Area Commander and also congratulate the newly promoted officers." She enthused.
Speaking earlier, the Commander SP waziri Abbas expressed happiness over the working relationship between the Police department and the area office, promising to sustain the tempo.
"We are highly motivated by your office and we assure you that with the promotion of our personnel, we shall be more than dedicated and committed to providing security back up to the activities of the Lagos area office.