Seme Customs On Red Alert !!!
Seizes dangerous drugs worth N10million
…Arrests 4 suspects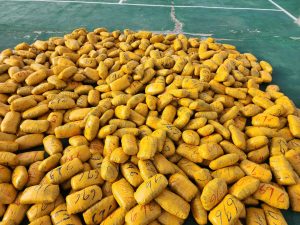 The Seme Border Command of Nigeria Customs Service (NCS), is currently on red alert, as the Command just intercepted dangerous drugs worth over N10million.
The Command swiftly arrested four suspects in connection with the seized items.
This mind-boggling seizure is happening just a few weeks after the same Customs Command handed over N2.763billion currency notes seized by its team to Economic and Financial Crimes Commission (EFCC).
Giving more details on the massive seizure of Cannabis Sativa, the
Customs Area Controller of Seme Command, Compt Dera Nnadi, mni, informed : "On April 21, 2023 at about 0403 hours, officers of Seme Command of Nigeria Customs Service while on routine patrol along  Abidjan – Lagos Corridor intercepted a Ford Bus with registration number EPE 622 YC at Gbatrome, Badagry.
"Upon a search of the bus, seven large sacks containing 553 parcels of Cannabis Sativa, also known as Indian Hemp, were discovered. Four male occupants of the vehicle, two civilians and two members of one of the sister security agencies conveying the contraband items were arrested."
He revealed : "The seized items valued at about N10million and the means of conveyance were taken to the station at Seme and detained pending further investigations.
"Also taken to the station were four male suspects, who volunteered statements. However, the two members of one of the sister security agencies were handed over to their agency for necessary action".
His words :  "A preliminary investigation following the questioning of the suspects revealed that the Indian hemp was destined for Kaduna State."
Compt Nnadi, mni, condemned the nefarious means of earning a living by some members of the society, who have no consideration for the damaging effects of hard drugs, which contribute to crimes in the country.
He enjoined members of the society who traverse Seme Corridor to take advantage of the trade facilitation effort of Customs and engage in legitimate business.
Meanwhile, the Customs Area Controller and Chairman of Seme-Krake Joint Border Post, want stakeholders, officers and men of Service, as well as sister agencies along Seme corridor to remain vigilant during the Sallah celebration, as smugglers may wish to take advantage of the public holidays to engage in their nefarious acts.