Anti-smuggling war :
Compt Makinde defeats economic saboteurs at Idiroko border
…Seizes 11 trailer loads of foreign rice, petrol, Cannabis Sativa, items worth N231.2million
The Customs Area Controller (CAC), Ogun 1 Command of Nigeria Customs Service, Compt Bamidele Makinde and his gallant officers have valiantly protected the nation's economy from nefarious activities of smugglers operating at Idiroko, the border between Nigeria and Benin Republic.
Using superior intelligence and well mapped out strategy, Compt Makinde fsi mni psc (+) recorded 115 seizures, which include 6,743 bags of smuggled foreign rice (equivalence of 11 trailer loads); 64 sacks and 824 wraps of Cannabis Sativa; 73 bales of Secondhand clothes and 14 sacks of foreign shoes.
Impressively, these prohibited items were intercepted within a short period of between January and February 2023.
Other seizures recorded within the same period under review include
Artifacts – 10 big sizes and 19 smaller ones; ​motorcycles used for conveyance of prohibited items;
​Premium Motor Spirit (PMS) -19,806 litres; vehicles used for conveyance of smuggled goods -18 units; used tyres- 900 and frozen Poultry products – 520 cartons, among others.
Addressing Journalists during a press conference, Compt Makinde, disclosed that the seizures were made at different locations in Abeokuta, Ilaro axis and Ipokia area of Idiroko border.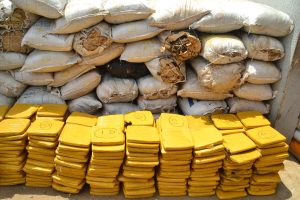 He informed : "The total Duty Paid Value (DPV) of the seizures is N231,218,506.00 (N231.2million)."
More so, Compt Makinde raked a total of N28,445,757.00 (N28.4million) into the Federation Account.
He explained that the revenue collection was made from import duties, auction sales of scrap vehicles and Petroleum products.
His assertion : "I will like to reiterate that the revenue activities of the Command comprises importation and exportation of legitimate goods; goods under ECOWAS Trade Liberalisation Scheme (ETLS), as well as assessment of merchandise in baggage".
On the mind-boggling seizures made by the Command, Compt Makinde stressed :  "The relentless anti-Smuggling campaign of the Command has continued to improve our seizure profile, as shown in the period under review".
Giving more details on trade facilitation, Compt Makinde added : "The Command is committed to facilitating legitimate trade. We value the business community and their contributions to the economy of the nation. We assure them of our continuous support in all aspects of their trading activities.
"However, we urge them to avoid any form of illicit trade that could adversely affect the economy and tarnish their reputation. May I use this opportunity to warn economic saboteurs to desist from illicit trade, because anyone caught in the act shall be made to face the full weight of the law."
Also, Ogun 1 Command under the leadership of Compt Makinde has made remarkable feats in stakeholders' engagement, as well as Corperate Social Responsibility (CSR).
For instance, the Integration Art Palace and Tour in collaboration with the Command, organised a 3-day Art for Economic Development programme with the theme; 'Nigeria Customs Service Enabling a Secure Border Trade'.
The CAC pointed out : "The programme, which is part of the Command's CSR, took place from 10th to 14th February 2023. Its objective is to promote trade using art work.
"The participants, who were secondary school students and artisans, were given the leverage to exhibit their talents. Four of the students who distinguished themselves were given awards of excellence to further encourage them to develop their skills.
"The Command also used that programme to educate the participants on activities of Customs in Ogun State, benefits of legitimate trade and the dangers inherent in smuggling activities.
"The Command continues to maintain a good community relations with the Traditional Rulers, Community leaders and the Youths. We are also committed to maintaining synergy with our sister agencies across the State. We appreciate the collaboration and cooperation of everyone, which has engendered peaceful co-existence in the Communities and it environs.
"The Comptroller General of Customs, Col. Hameed Ibrahim Ali (rtd) CFR, has always overwhelmingly supported the anti-smuggling campaign of the Service and this has had a huge impact on the performance and achievements recorded by Commands, Units and other Customs formations across the nation.
"Our Area Command, in particular, has benefitted immensely from such support and sterling leadership. May I use this medium to appreciate him and his Management Team. Let me once again appreciate our critical stakeholders such as the traditional rulers, community leaders, and other security agencies showing concern and collaborating with the Service for their continuous support. May I also thank and appreciate the press for being objective in their news reports'.
Recall that Compt Makinde, described by many as anti-smuggling Czar has made the Service proud with laudable achievements made since he took over the leadership of Ogun 1 Command.
Despite the volatile nature of Idiroko border, Compt Makinde and his enforcement officers have been dogged and tenacious in carrying out their statutory functions.
During the press conference, it was observed that the seizures were displayed in the open and Compt Makinde in company of his senior Officers took reporters round the Customs office in Abeokuta, as shown on the photographs.