Customs at Onne Port, Rivers State rakes in N242bn
… Facilitates 1,096,646.14 metric tons of exports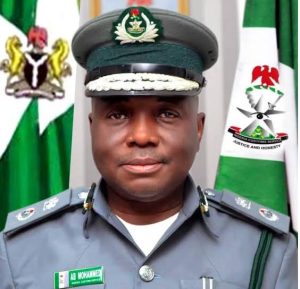 The Nigeria Customs Service, Area II Command, Onne Port, Rivers State, has raked a whopping sum of N242billion in to the Federation Account.
The Customs Area Controller (CAC)
Area 11 Command, Onne, Auwal Mohammed, disclosed this information, adding that the money was realised from duty paid on imported goods recorded in 2022 fiscal year.
Also, the amount collected in 2021 shows increase of N54.4billion, when compared to N123.1billion realised in 2020.
According to the CAC : "It is pertinent to note that the 2022 revenue represents 28.3 percent increase, as against what we generated in 2021 and 59 percent increase over revenue generated in year 2020.
"The Command revenue generation profile continues to be on the rise annually due to on-going reforms in the Command.
"Some of these reforms include; Robust stakeholders' sensitisation resulting in more informed/voluntary compliance.  Strict enforcement of extant guidelines. Increased disposition of officers and men to put national interest above self.  Strategic deployment of officers to various duty post."
The CAC informed :  "The Command also recorded remarkable achievements in areas of trade facilitation, security and welfare, notable among these are:
• Commissioning of ultra-modern mobile scanner. • Upgrading and installation of 24 hours CCTV network cameras within and around our Government warehouses.
• Building of security watch towel in the Government warehouse environment. • Upgrading of Customs Clinic in Ebubu barracks and installation of modern clinical equipments. • Renovation of our old Customs Processing Centre (CPC) to 100 sitting capacity modern Conference room."
Giving more details on export trade, the CAC revealed :  "A total of 1,096,646.14 metric tons of goods with total Free On Board (FOB) value of $1,268,038,648.91, which is equivalent to ₦522,102,233,326.76 were processed through the area Command last year. A total of ₦2,713,884,004.19 was recorded for Nigeria Export Supervision Scheme (NESS), which is higher when compared to 2021 record of ₦881,011,957.22.
"This shows that the Command achieved outstanding feats in its export activities within the period under review."
His assertions :  "We have consistently made it clear that the Command welcomes only compliant traders, who are willing to operate in accordance with the extant laws and guidelines of importation and exportation. We have also shown clear resolve to deal ruthlessly with importers and agents, who manifest recalcitrant attitude to the laws.
"The Command maintains open lines of communication with all governments agencies at all times. The process of information sharing within the agencies goes a long way in assisting us to identify and neutralise all possible avenues that could lead to compromises in revenue collection and security.
"The seizures made last year are products of synergy among our Command, other units within the service and security agencies. These units include Customs Intelligence Unit, CGC Strike Force, Valuation, Customs Police and Post Clearance Audit. Other security agencies include the Nigerian Police force, Nigerian immigration service, the Nigerian Ports Authority (NPA), Standards Organisation of Nigeria (SON), National Agency for Food, Drugs Administration and Control (NAFDAC), among others.
"The Command recorded a total of 50 seizures with Duty Paid Value (DPV) of One billion, Seven hundred and Sixty-One million, Eight hundred and Seventy-Nine thousand, Four hundred and Twenty-Eight Naira, Nine kobo N1,761,879,428.9. Some of the spectacular seizures for 2022 include:
•12,560 cartons of Tomatoes paste worth ₦137,618,985.00.
• 1,665 cartons of pharmaceutical products with DPV of ₦338,103,951.00.
• 3,768 bales of Textiles fabrics valued at ₦475,833,592.45.
• 2100 gallons of 25 litre Vegetable oil valued at ₦66,549,420.00.
• 4409 cartons of Soap/Detergent worth ₦159,665,612.00.
• 1054 cartons of tobacco and cigarette worth ₦76,086,287.00.
• 10,462 used tyres with DPV of ₦94,645,081.00.
•9 Used vehicles worth ₦71,869,316.50."
He pointed out :  "The Command looks forward to unprecedented performance this year 2023. While we appreciate the Comptroller–General of Customs, CGC Hameed Ibrahim Ali and his management team for their consistent encouragement and support, we promise to remain resilient and diligent in carrying out all statutory responsibilities without compromise.
" We also appreciate our stakeholders including sister agencies, the business community and other organisations for their support and cooperation"