Greener Shipping :
NIMASA DG harps on information sharing
* Targets 2050
"For us to achieve greener shipping, we must come together exchange ideas and share information".
These were the exact words of the Director General, Nigerian Maritime Administration and Safety Agency (NIMASA), Dr Bashir Jamoh.
Dr Jamoh made these assertions yesterday, at the World Maritime Day celebration with a theme, 'New technologies for greener shipping', held at Eko Hotel and Suites, Victoria Island, Lagos.
His words : "We should also do our best to align with government thinking and policies to achieve zero gas emissions by 2050.
"Our target is 2050, that is 2050 forward thinking. If we achieve it in 2055, there is nothing wrong with it, but our target is 2050.
"Maritime is what we cannot play with. 5000 years ago was
when maritme started with waterways transportation in India and other places.
"5000 years is not easy to mention in any endeavour.
Since that period till now, water transportation has become effective in moving cargoes from one place to another, looking at the cost element.
"Maritime also provides a platform for transporting heavy cargoes worldwide. This informed why the organisers of this World Maritime Day decided to set aside today to recognise the importance of maritime".
Also speaking, the Managing Director of Nigerian Ports Authority (NPA), Mr Bello-Koko, stressed the importance of technology in achieving greener shipping and environment sustainability.
According to him, "In 2020, NPA signed IMO sulphur regulation requirement of not more than 0.5 percent emission.
"NPA is poised to embrace partnership and support policies for greener shipping. The Lekki Deep seaport, which will soon start operations is fully automated, such that vessels will spend less time in the port. We need to make all our ports fully automated for ship to spend less time in the ports, in order to promote greener shipping."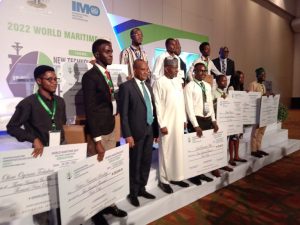 Also speaking on 'New technologies for greener shipping', the Minister of State for Transportation, Prince Ademola, said :  "The theme for this year's celebration becomes more significant, at a time the world is transiting to cleaner energy, to achieve zero carbon emission.
"Statistics shows that at the moment, shipping industry consumes approximately 300 million tons of fuel oll every year, emitting about 3 percent of the world carbon- doxide emissions into the atmosphere. Recognising the potential of reducng green House Gas emission in the shipping industry and its impact on climate change, the sector plays a critical role in ensuring sustainability through innovative leadership of the International Maritime Organisation (IMO).
"To achieve this innovative transition, partnerships with discerning parties on sharing and distibuting information on best practices, to access resources and general know-how in support of the transition of maritime sector into a greener sustainable future are important.
"The shipping industry is very dynamic. Therefore by 'Green shipping' it refers to strategies to increase energy efficiency and decarbonize global shipping with the application of environmentally friendly trends and technologies with innovative measures that could take over the shipping industry today, with the goal of working towards a cleaner, greener world as highlighted below.
"A green ship would leave least amount of carbon emissions. "Green ship" is a name given to any seagoing vessel that contributes towards improving the present environmental condition in some ways. Green ship technology adopts procedures to decrease emissions, consume less energy, and be more efficient".
In his goodwill message, the Chief Executive Officer of Nigerian Shipper's Council (NSC), Hon. Emmanuel Jime,
pointed out : "The theme, 'Technologies for Greener Shipping' reflects the need to support a green transition of the maritime sector into sustainable future. The celebration brings together stakeholders in maritime sector to acknowledge its achievements whilst brainstorming on ways to improve the standards in the industry.
"The introduction of 0.5 percent sulphur cap by IMO in a bid to deal with Greenhouse Gas Emissions from ships has given rise to concerns on how vessels can comply and how non-compliance will be dealt with around the world. The shipping industry is an important economic sector that contributes to more than 80 percent of global trade.
"According to S&P Global Platts report, the shipping industry currently accounts for between 2 percent and 3 percent of global carbon dioxide emissions and could be 17 percent
by 2050, if left unregulated.
Our environment is constantly changing, and as it changes, so does the need to become increasingly aware of the problems that surround and affect it.
The Permanent Secretary, Federal Ministry
of Transportation, Dr. Magdalena Ajani
in her opening remarks mentioned that the World Maritime Day celebration began precisely in 1978, with the aim of providing opportunities for IMO member states and entire maritime community to focus attention on importance of shipping, maritime safety, as well as security of the marine environment.
She added : "In our country Nigeria, this special event provides opportunity to sensitise the public on achievements and challenges confronting the maritime industry. At the same time, it provides a veritable platform for maritime professionals and stakeholders to network, share ideas and proffer solutions to challenges confronting the industry".
The high point of the event was presentation of Awards to young Nigerian students, who emerged winners in the essay competition on new technologies for greener shipping, organised by NIMASA to mark the occasion.