Exceptional performance :
Customs in Katsina State hits 20,263.99 tons of exports
* Records N79.3million seizures
* Arrests 3 suspects 
The Katsina State Command of Nigeria Customs Service (NCS), has recorded exceptional performance in export trade to over 20,263.99 tons within few weeks, from 15th August to 28th September 2022.
This remarkable performance is coming just a short while after the same Command realised over 10,827.40 tons of export trade facilitation.
Those were not all.  Katsina Command under the leadership of Compt Wada Chedi also made seizures worth over N79.3million within the period under review.
Most impressively, the huge volume of export trade facilitated by Katsina Customs Command will boost the nation's economy, in line with the policy of Federal Government to enhance growth of non-oil export sector.
On revenue generation, the Command within the period under review,  collected N124, 896,718.27million, with significant increase of N25,119,375.27million from the previous month. The increase in revenue was achieved following rejigged operational strategies, as well as constant patrols along Jibia-Katsina metropolitan by Compt Wada's team and all security agencies working in synergy.
Also, vehicles detained by the Command within the period under review include Galaxy bus with registration number FTS 616 XZ worth N1,755,000.00; J5 bus worth N1,215,000.00; used Peugeot 504 with Duty Paid Value (DPV) of N135,000.00; another used 504 Peugeot valued at 135,000.00; Mercedes Benz worth N1,485,000.00; Toyota highlander jeep valued at N1,755,000.00; Pontiac vibe worth N1,385,000.00; and used Peugeot 504 worth N135,000.00.
Others were J5 bus valued at N1,282,500.00; another J5 bus worth N1,215,000.00; Nissan wagon worth N877,500.00; used Golf 3 wagon worth N1,350,000.00; Toyota hilux 2010 model worth N9,450,000.00; used  truck worth N5,670,000.00; and used Toyota corolla worth N8,100,000.00, making a total of N35.945.000.00, that is (N35.9million).
Similarly, other prohibited items seized include 594 bags of foreign rice (50kg each) worth N17,641,800.00; 56 bags of foreign rice (25kg each ) worth N831,600.00; 96 cartons of foreign spaghetti worth N576,000.00; 95 cartons of foreign macaroni valued at N570,000.00; 70 cartons of foreign couscous worth N420,000.00; and seven jerrycans of vegetable oil (25litres each) valued at N205,900.00.
Others include eight gallons of vegetable oil (5litres each) worth N61,600.00; 491 jerrycans of Premium Motor Spirit (PMS) worth N2,227,913.00; 100 used tyres worth N880,000.00; 300 bags of foreign flour (25kg each) valued at N4,950,000.00; 76 cartons of foreign milky creamer milk valued at N2,052,000.00; 20 bags of foreign milky creamer valued at N1,350,000.00; 21 bags of tigernuts worth N882,000.00; 75 bags of foreign fertiliser worth N1,181,250.00; 50 bales of second-hand clothes worth N6,000,000.00; 30 sacks of second-hand clothes worth N1,080 000.00; 46 rolls of polythene sheets with DPV of N2,415.000.00; and seven cartons of olive oil worth N33,600.00, making a total of N43,358,663.00 (approximately N43.4million). The grand total for seizures and detained items amounted to N79.3million.
Addressing reporters during press conference in Katsina, Compt Wada attributed the increase in exports and other feats recorded by the Command to doggedness and resilience of officers, who are working in tandem with the vision of the Comptroller General of Customs,  CGC Hameed Ibrahim Ali, to enhance economic growth.
He explained that on anti-smuggling drive, the Command made 29 seizures, even as three suspects were arrested in connection with some of the seized items.
He informed :  "There are 14 general items while 15 vehicles/ means of conveyance were seized, with a total Duty Paid Value of N79,303,663.00million.
"There was an increase in seizures compared to last month due to intensified patrols and information received from the community, a sign of improved working relationship, courtesy of Customs Community Consultative Forum".
Speaking further, Compt Wada called on the general public to give credible information to officers for anti-smuggling operations,  in order to protect the nation's economy against nefarious activities of saboteurs.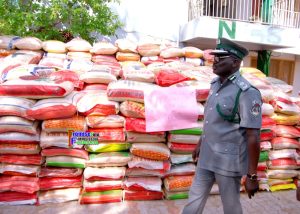 He also emphasised that legitimate traders should come forward as his doors are always open for their complaints and suggestions. On the contrary, he warned smugglers to desist from their evil acts because the Command would not relent in fighting back.
OBSERVATION  :  More so, it has been observed that  Katsina Command under Compt Wada has outstanding records of successes in trade facilitation, anti-smuggling and inter-agency collaboration despite challenges faced within the border communities.
About Post Author