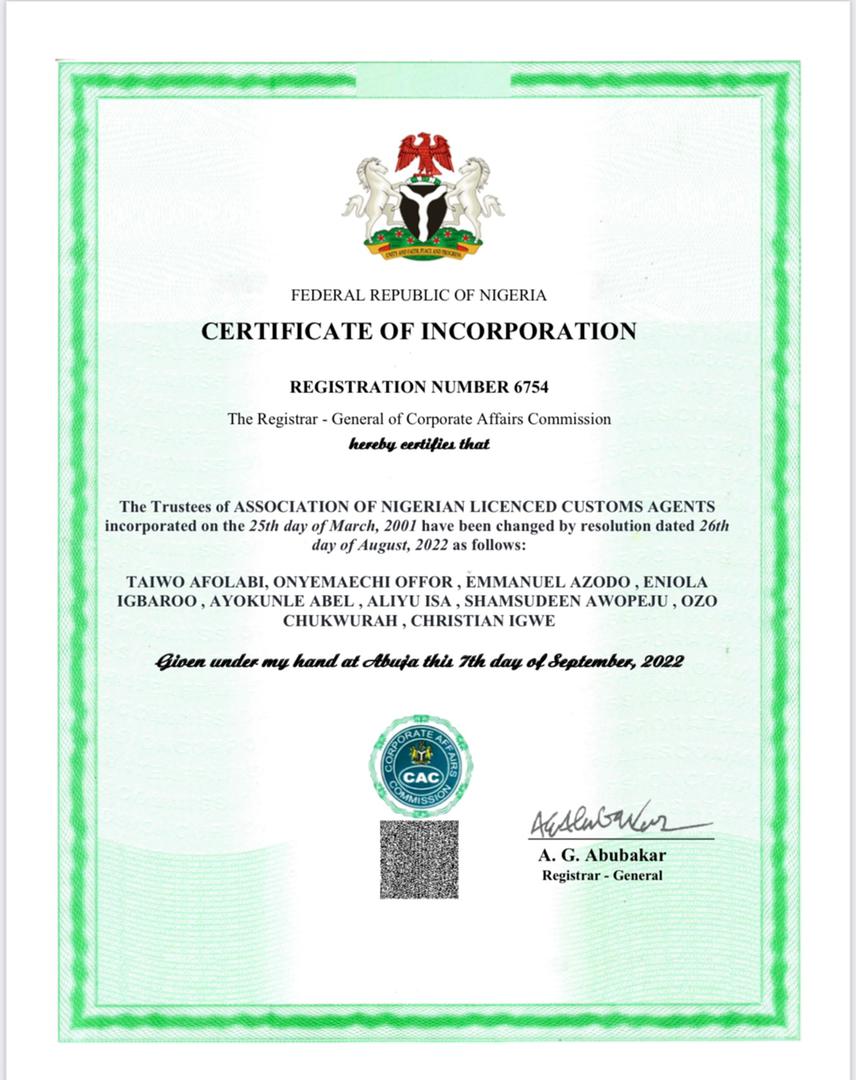 ANLCA : CAC issues certificate of registration to Nwabunike, Farinto-led NECOM
* As Farinto alerts the public on activities of expelled members impersonating ANLCA
Fresh facts emerged that the Corporate Affairs Commission (CAC), has issued Certificate of registration to Association of Nigerian Licensed Customs Agents (ANLCA), under the leadership of Hon. Prince Tony Iju Nwabunike, as National President; and Dr Kayode Farinto in acting capacity.
The Acting National President of ANLCA, Dr Kayode Farinto, revealed these latest facts to maritime Journalists in a press statement, even as he presented the certificate and names of the new board members attached on it.
Dr Farinto also alerted all maritime stakeholders and the public on illegal activities of expelled members impersonating ANLCA.
His assertions :  "The ANLCA NECOM is also aware of the expelled members and their cohorts circulating letters of introduction to Stakeholders for recognition. While we are still investigating the matter, we want to state that such letters do not and cannot have the backing of ANLCA NECOM. We promise to bring the impersonators to book in due time."
The Acting National President stated emphatically :  "This is to inform all stakeholders, especially in Maritime, Transportation, logistics chain and the general public that after expiration of the six years tenure of the former Board of Trustees ( BOT), members whose tenure was operational from February 2014 to February 2020, as enshrined in the association's Supreme constitution, ANLCA held an Annual General Meeting ( AGM ), as stipulated by its constitution, in December 2020 to elect new board members.
"The AGM held in Owerri, the Imo State capital was duly attended by all ANLCA members, where the election of the board members was conducted both virtually and physical."
He continued : "At the end of voting exercise, nine prominent and duly registered members of ANLCA were elected into the board for a period of six years single tenure, as contained in ANLCA's amended constitution.
"The nine newly elected board members were, Dr Taiwo Afolabi, Prince Ozo Chukwura, Chief Kingsley Offor, Alhaji Shamsideen Awoteju, Igbaroola Eniola John and Obi Azodo. Others included Alhaji Isa Aliyu, Abel Timothy Ayokunle and Chief Igwe Christian Odinaka.
"It is worthy to note that since their election, the association has be painstakingly carrying out procedural processes of registering the new board members with Corporate Affairs Commission.
"I am happy to announce to you that, on September 7, 2022, the ANLCA National Executive Committee working with the board and other members were able to get the CAC Registration of the new ANLCA board members.  See certificate, specimen and names of the new board members attached".
He stressed :
"With the new development, all stakeholders are advised to disregard any other group or individuals parading themselves as ANLCA's board members. While we don't want to over-emphasised the issues in our association being perpetuated by expelled members, we want to assure Maritme stakeholders, the general public and our members that the ANLCA leadership will never succumb to blackmail of mischief makers.
"Rather, we will follow the rule of law and stick to the Supreme constitution of ANLCA, as a status symbol of all registered associations".
He added : "In the spirit of reconciliation, this NECOM is ready to discuss with all aggrieved members, in oder to move forward the association and in the intrest of our numerous members suffering on the field.  I want to declare that, there is No Victor, No Vanquish, hence we should all put our hands on deck and jettison any selfish interest for the overall interest of our members and the association."

From L-R , Dr Kayode Farinto, Acting National President of ANLCA, Dr Taiwo Afolabi, BOT Chairman, ANLCA and Prince Ozo Chukwura, Vice Chairman ANLCA BOT, displaying the newly aquired Registration Certificate as Board Members from the Corporate Affairs Commission (CAC).