Again :  Fearless Compt Makinde, his men crackdown on economic saboteurs at Idiroko border
* Intercepts contraband worth over N311.9million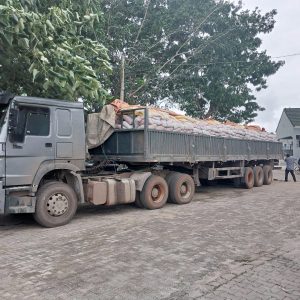 By now, smugglers sabotaging the nation's economy at Idiroko, the border between Nigeria and Benin Republic will be counting their losses, as Compt Bamidele Makinde and his gallant officers fearlessly crackdown on illicit traders and intercepted five trailer loads of foreign rice, 18,100 litres of smuggled petrol, vehicles, as well as other prohibited items worth over N311.9million in Duty Paid Value (DPV).
Compt Makinde, who is the Customs Area Controller (CAC) of Ogun 1 Command, made these spectacular seizures through intense and intelligence based anti-smuggling operations.
This laudable feat in anti-smuggling drive by Compt Makinde and his team is made just after few weeks the same Command seized prohibited items worth millions of Naira.
Other mind boggling seizures recorded by the Command include
A truck with Lagos State registration no. EKY 971 YE belonging to Dangote group of companies, loaded with 75 bags of foreign rice and concealed with 900 bags of Dangote cement, intercepted along Ibeshe road, Yewa North Local Government
Area of Ogun State, in the early hours of Sunday, August 21, 2022.
Another Dangote truck with Kano State registration number
BCH 531 XA, loaded with 228 bags of
smuggled rice, concealed with some bags of cement, seized along Lafenwa, Abeokuta axis, Ogun State in the early hours of August 23, 2022.
More so, other seizures recorded in various quantities within the month of July 2022 include: 150 used compressors; eight used vehicles; six motorcycles used in conveying smuggled items; 153 bales/ 68 sacks of second-hand clothes; 79 sacks of second-hand shoes; 111 cartons of foreign wine; 220 bottles of wine; 301 used tyres; 724 jerrycans of PMS;
310 cartons of frozen poultry products and many others.
The cumulative DPV for all the seizures amounted to N311.9million, as mentioned above.
Another remarkable feat recorded by Ogun 1 Command within the period under review is revenue generation for government, despite the fact that its core function is anti-smuggling.
Addressing Journalists during a press briefing, Compt Makinde, informed that aside anti-smuggling feat,
the Command also generated N13.8million revenue from import duty and auction sales of Premium Motor Spirit (PMS), intercepted during anti-smuggling operations.
He attributed the successes recorded by Ogun 1 Command to the support received from top Customs management.
His words :
"It is yet another press conference aimed at highlighting the efforts of the Command in promoting socio-economic development in Nigeria through Revenue generation, Anti-smuggling operations and Trade facilitation for July 2022. I must emphasise that this would
not have been possible without the inspiration and sterling leadership of CGC Hameed Ibrahim Ali."
He pointed out :
"The Command during its intensive anti-smuggling operations
recorded seizure of 3154 bags of foreign parboiled rice.
This quantity of rice, if allowed into the Nigerian market would have affected the Federal Government Rice Policy aimed at providing staple food at affordable prices and
employment to citizens".
Speaking further, the CAC stressed that Ogun 1 Command maintains a cordial working synergy with other government security agencies within its area of responsibility.
About Post Author