Customs revenue in geometrical progression :
Hits N1.3trillion in 2022 half year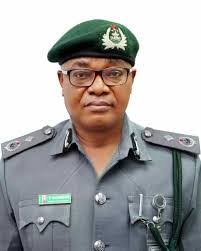 The Nigeria Customs Service (NCS), is increasing its tempo in revenue generation for the Federal Government, as the Service realised a whopping sum of N1, 292,904,201,376.89 (approximately N1.3 trillion) from January to June 2022.
The N1.3 trillion collected into the federation account is greater than the sum of N1,003,540,084,590.16 trillion generated the corresponding period in 2021.
The Customs National Public Relations Officer, DC Timi Bomodi, made these details known to Journalists.
He revealed :
"The amount generated surpassed our achievements of last year by N289,364,116,786.73, showing 28.83 percent increase. This is even more remarkable given the fact that only 116,691 Pre-Arrival Assessment Reports (PAARs) were issued, against 129,667 processed in the same period of 2021.
"The sum of N156,315,758,646.18 was also generated into the non-federation account, as collections made on behalf of other Government Agencies."
EXCISE, FREE TRADE ZONES & INDUSTRIAL INCENTIVES :
He added :
"Excise duty being tax levied on the manufacture, sale and consumption of goods under excise control was collected through 22 Commands of the Service. A total of N68,015,808,146.61 was collected from manufacturers of beer, spirits and other alcoholic beverages, cigarettes and tobacco among other products from January to June, 2022.
"Also in the month of June, the Service commenced collections from extant traders producing carbonated drinks, newly added under schedule 5 of the CET.  So far, the Service has collected from carbonated and sugary drinks more than one billion Naira in the month of June.
"Other revenues from telecommunication (call and data), and digital network services are yet to be collected. NCS is expected to start collecting revenue on these products and services as soon as the modalities for collection are put in place".
He emphasised :
"Duties from these revenue sources are expected to boost our collections in the current year.
Of the 42 Free Trade zones in Nigeria only 25 are active, with 15 of them operating in Zone 'A', 4 in Zone 'B', 5 in Zone 'C' and 1 in Zone 'D'. in addition to providing employment opportunities for Nigerians, these Special Economic Zones are expected to engender the transfer of technology, help build local capacity, provide viable market for other local producers of raw materials and increase the quality of goods which can potentially be available in the local market on the payment of relevant duties and taxes. "
ENFORCEMENT/ANTI-SMUGGLING :
DC Bomodi pointed out :
"There have been remarkable interventions in anti-smuggling activities of the Service. In the period under review various goods with a total Duty Paid Value (DPV) of N39,174,678,983.00 were seized due to regulatory and policy infringements.
"The top seven items seized are narcotics and other illicit drugs with worth N8,768,311,517.00, followed by foreign parboiled rice with a DPV of N8,251,353,292.00, and illegal imports of dangerous pharmaceuticals with DPV of N7,630,764,524.00.
"Other items are used clothing with a DPV of N4,051,244,924.00, petroleum products with a DPV of N 3,698,181,138.00, textiles and made up fabrics with a DPV of N2,561,361,989.00 and motor vehicles with a DPV of N1,853,084,115.00. The DPV value of seizures in the current year exceeds that of seizures made in 2021 by a whopping N34,752,130,003.00"
ILLEGAL WILDLIFE TRAFFICKING/TRADE (IWT) :
He informed :
"The service in collaboration with United States embassy in Nigeria, the British and German governments, enabled the creation of a Special Wildlife Office, which spearheaded an intelligence driven approach to curbing illicit trafficking and trading in endangered species. Their effort has seen to the arrest of 12 foreign and local suspects, confiscation of 1,236.5 kg of pangolin scales and 145 kg of ivory. All suspects have since been charged to court and await conviction."
ANTI-MONEY LAUNDERING AND COUNTER FINANCING OF TERRORISM :
He disclosed :  "The Anti-Money Laundering Unit (AML) of the Service recorded tremendous successes in the period under review. The Unit made seizures of 339,800 USD, 12,000 POUNDS, 3,013,500 RYD, 20,005 CFA, and 133 ATM cards. Seven persons were arrested in violation of the Anti-Money laundering Act and handed over to Economic and Financial Crimes Commission (EFCC) for prosecution."
STAFF TRAINING AND WELFARE
His words :  "Our officers have continued to upgrade their skill sets through refresher courses held at various training colleges and at the Command and Staff College. Other very senior officers have been trained at the National Defense College, and the National Institute for Policy and Strategic Studies NIPSS among other elite institutions.
"These trainings are designed to equip them with the knowledge and know-how to function efficiently in a 21st century Customs Administration. As we approach an era of 100% automation of all our services, we are indeed mindful of the quality of training needed to manage both the transition and sophisticated technological assets that will be placed at the disposal of every Customs officer, hence the emphasis on capacity building and training.
"The service has set out to improve on the living standards of its officers and men. To this effect, it has built new barracks and staff quarters across the 4 zones of the federation and provided bussing services. Operationally too it has acquired new vehicles capable of withstanding the rough terrain under which we operate especially in border areas.
"The Service continues to improve on its business processes through introduction of innovative services that have simplified, harmonised and automated its core functions. One of the successes recorded so far is the
VIN-Valuation protocol, which uses vehicle Identity number as a guide for payment of appropriate taxes.
"This tool has helped to plug leakages and has proven to be an effective way of checkmating false declarations for vehicles. Time release studies on procurement of PAAR shows that it takes compliant traders, averagely, one day, seven hours and six minutes to submit, validate, approve and register applications for PAAR.
"Noting the importance of stakeholder engagement, the Service has continued to carry out sensitisation programmes which highlight improvements in our processes and procedures. These exercises are carried out to get user buy-in and understanding. Indeed the emphasis remains trade facilitation as an incentive for voluntary compliance.
"The deployment of Non Intrusive Inspection devices (Scanners) in Apapa, Tin-Can and Onne ports signals a readiness by the Service to expedite cargo examination processes using robust risk management tools. In this area too, the Service has held sensitisation programmes for importers, agents, shipping companies and terminal operators outlining its standard operating procedure, which promises fast delivery of cargo for compliant traders".
RECRUITMENT
He asserted :  "The second batch of recruitments, which is a continuation of the 2019 exercise witnessed over 5000 potential recruits drawn from all the 774 Local Government Areas participate in computer based tests conducted in the six geo-political areas of the federation. Reports from this exercise indicated low turnout from certain local governments, states and zones. Hence, Management in its magnanimity has directed that these persons be given another opportunity to take the CBT on the 23rd of August 2022. Successful candidates in these exercises shall be notified, while plans are being made for their resumption at the various training colleges of the Service.
"Meanwhile over 1500 recruits who recently graduated from our training colleges in Lagos and Kano have since been deployed to various Commands and units.
"The Nigeria Customs Service is optimistic about achieving the revenue target set for it by government. Our focus is on fortifying our risk management tools to drastically minimize leakages and curtail the activities of non compliant traders.
"We understand the important role of technology in this endeavor that is why our focus is on actualizing the full automation of all our activities as encapsulated in the concession agreement vetted by Infrastructure Concession Regulation Commission (ICRC) and signed with Trade Modernization Nigeria Limited and our technical partners Huawei Technologies Limited.
"This agreement promises to usher in a whole new era that will radically transform the operations of the Service and bring it at par with leading Customs Administrations."
About Post Author