Apapa Customs intercepts Tramadol worth N1.3bn from India
*Arrests one Suspect
The Customs Area Controller (CAC) of Apapa Command, Compt Malanta Ibrahim Yusuf and his enforcement officers have demonstrated unwavering loyalty and commitment to the fight against illicit drug smuggling through the premier port.
This was evident in the seizure of a 20ft container of tramadol estimated at the monetary value of N1.275billion (approximately N1.3billion).
The 20ft container seized at a terminal in Apapa port was loaded with 150 cartons of tramadol and concealed with cooking pots by the owner, in attempt to escape security checks at the seaports; but Compt Malanta along with his team uncovered it through intelligence.
The officers swiftly arrested
one suspect in connection with the prohibited items imported illegally into Nigeria from India.
In the spirit of cordial inter-agency collaboration, Compt Malanta handed over the seized drugs and suspect to Narcotics department of National Drug Law Enforcement Agency (NDLEA) for further investigation.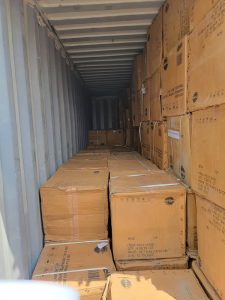 Speaking during the handing over in Lagos, the CAC informed :
"By authority of the Comptroller-General of Customs, CGC Hameed Ibrahim Ali;  I am handing over 1x20ft container No. PCIU 0183241 laden with 81 cartons of 250mg, 69 cartons of 225mg tramadol tablets.
"Each carton contains 72 rolls with 10 packs; each pack contains 10 sachets, of 10 tablets, making a total of 150 cartons of tramadol tablets to the Commander of Narcotics, Apapa Special Area Command of NDLEA for further investigation.
"One suspect arrested in connection with the seizure is also handed over to NDLEA for further interrogation".
The CAC emphasised :
"This initiative is to further strengthen the cordial working synergy with the Service, NDLEA, as well as other relevant agencies of government operating in the premier port.
"In reality, the fight against illicit drug trafficking is everyone business. So, the Service is all out to support NDLEA in combating this ugly menace in all ramifications".
About Post Author