Landmark achievements :  kLT Customs hits N23.6 billion revenue collection
* Realises 38% increase
* Records over N484.7million seizures
The Kirikiri Lighter Terminal (KLT) Command of Nigeria Customs Service
has recorded a landmark achievement in revenue collection for the Federal Government, with a whopping sum of N23.6 billion realised in half year of 2022.
The huge revenue collection, which is unprecedented in the history of KLT Customs Command, was realised through exceptional managerial skills, fresh impetus and ingenuity brought to bear by Compt Hammi Swomen in running the Command.
More so, the Command recorded significant monthly upsurge in revenue generation profile aggregating to N23.6 billion, thereby surpassing N14.6 billion realised the same period in 2021, with surplus of N8,940,941,341.00 billion (approximately 9 billion).
The record above represents 38 percent increase in revenue collected for the period under review.
Aside unmatched revenue collection, the Command recorded impressive score card in anti-smuggling operations, with seizures worth over N484.7million in Duty Paid Value (DPV).
The Command through credible intelligence intercepted
2 x 40ft containers laden with restricted drugs; such as cough syrup with Codeine and Hyergra worth N212,775,950.00.
Briefing Journalists on activities of the Command, Compt Swomen, who is the Customs Area Controller (CAC), revealed that KLT also intercepted 1 x 40ft container with 795 packages of prohibited footwear falsely declared as water taps and closets. 1 x 40ft container with 1,447 packages of prohibited mosquito coils, as well as other items falsely declared as non woven paper filter.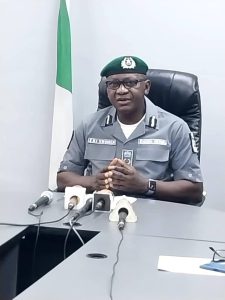 The CAC disclosed :
"These importations with DPV of N271,963,311.00 contravened items Nos. 22 and 17 in schedule 3 of the Common External Tariff (CET)".
Also, through hard work and resilience, Compt Swomen successfully reactivated one of the moribund terminals in his area of responsibility, even as his Command achieved increased cargo throughput in half year of 2022.
Another remarkable feat recorded within the same period include approval of Export Processing Terminals in the Command.
Responding to question on compliance level, Compt Swomen explained :
"We measure our performance by looking at the volume of imports, seizures, under-payment recoveries and interface with stakeholders. So, from January to June 2022, we recorded significant increase in the level of compliance, which is above 60 percent."
Compt Swomen attributed the successes recorded so far to tremendous support from the Comptroller General of Customs and his management team; effective collaboration with other government agencies; regular engagement with stakeholders; joint examination with other relevant security agencies; rejigged conflict resolution mechanism and implementation of government policies on trade facilitation.
In the same vein, the Command experienced challenges following the slide in Naira exchange rate against the Dollar, continuing constraints of access and exit roads for cargoes, even as Russia – Ukraine war is bringing several knock-off effects on international trade.
About Post Author