A rage against illicit drugs :
NDLEA lauds Apapa Customs on
seizure of tramadol container
* Assures the public on total destruction of drugs after Court condemnation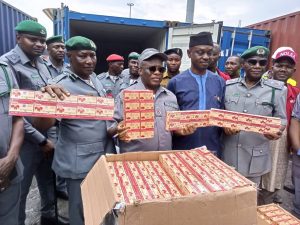 The National Drug Law Enforcement Agency (NDLEA), has commended Apapa Command of Nigeria Customs Service (NCS), on seizure of 1x20ft container load of tramadol intercepted through credible intelligence.
The Agency also assured the entire public that the process for destruction of the seized drugs will be carried out speedily, once a Court makes pronouncement on it condemnation.
The Commander of NDLEA, Apapa, Mr Inalogwu Ameh, gave these details, when speaking at the scene where the container of tramadol was unveiled by Apapa Customs.
Going further, the NDLEA Commander, applauded Apapa Customs Area Controller (CAC), Compt. Yusuf Malanta and his team for their vigilance in trailing the prohibited items to the point of interception, even as he revealed that NDLEA had officially received seized tramadol the previous day from the same Command.
Giving more details on the seizure, Compt Malanta said that the contents included 69 cartons of Tramadol (250mg), as well as 81 Cartons of Tramadol (250mg). And each carton had 72 rolls with 10 packets in each.
He disclosed that the Tramadol tablets were falsely declared as static converters and switches by the importer but his team uncovered the real contents through intelligence gathering and collaborative efforts of other security agencies at the premier port.
He added that the port of origin for the consignment was Singapore but in a deliberate attempt to escape security checks, the importer moved the tramadol from one country to another, even to Hong Kong and China, yet, his team intercepted the items.
Expressing strong displeasure on activities of some importers bringing prohibited items into the country illegally, Compt Malanta said the intelligence network of Apapa Customs is constantly rejigged to move several steps a head of economic saboteurs.