Customs FOU Zone 'A' dares smugglers:
* Seizes 16 trailers of foreign rice, 41,950 litres of petrol, items worth over N818million
* Arrests 14 culprits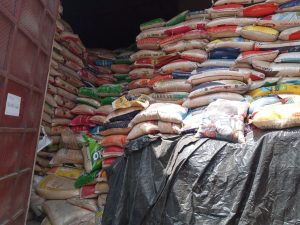 The Customs Area Controller (CAC) of Federal Operations Unit, FOU, Zone 'A' Lagos, Comptroller Hussein Ejibunu, said his Unit is battle-ready for unrepentant smugglers engaging in illicit trade to the detriment of the nation's economy.
Ejibunu and his Enforcement officers demonstrated this, as they seized 9,917 bags of foreign rice, (equivalent to 16 trailers), four containers of unprocessed wood and other prohibited items smuggled into the country illegally.
The Unit swiftly arrested 14 suspects in connection with the seizures.
Addressing Journalists during a press conference, the CAC revealed that the items were seized in May 2022 through intelligence.
He displayed other seized items, which included 1,041 bales of second-hand clothes; seized vehicles;
41,950 litres of Premium Motor Spirit (PMS)- commonly known as petrol;
54 cartons of creams; 42 generators; 3,260 pairs of used shoes;
basmati rice; 8,500 used tyres; 599 cartons of frozen poultry products; cannabis sativa and
29 motorcycles; at a monetary value of
over N818million.
Speaking further, the CAC informed
that his Unit raked in over N64.3million from Demand Notices (DN), on goods, which exited the ports without paying correct import duty to the Federal Government.
The CAC frowned at illegal activities of smugglers, who are sabotaging the efforts of government in growing the economy.  He stressed that the Unit has rejigged its operational strategies to thwart illicit trade and block all areas of revenue leakages within Zone A .
The FOU Customs boss appealed to Nigerians to look inward and support the policy of government aims at revamping local industries, in order to boost production of local goods for greater economic growth and development.
His assertions :
"We use intelligence and meticulous documentary checks in undertaking our anti-smuggling tasks to recover lost revenues, intercept goods contravening Customs laws and seize those that fall under the prohibition list".