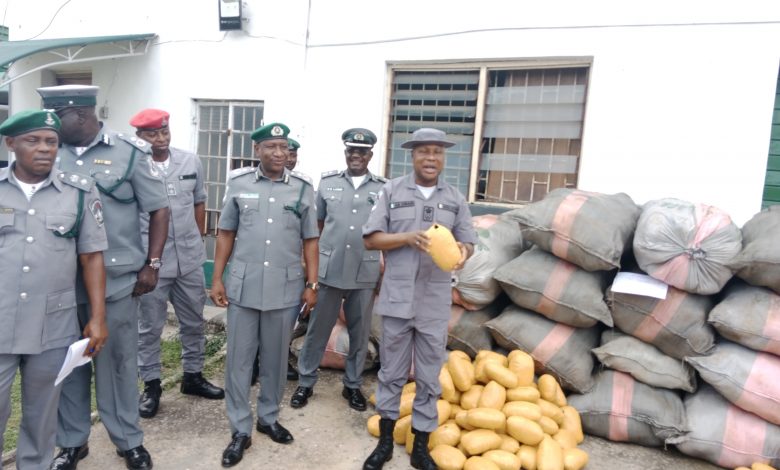 Western Marine Customs rattles smugglers on sea
* Intercepts hard drugs worth over N168 million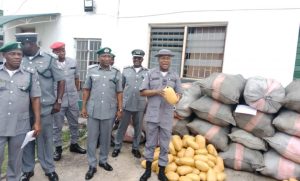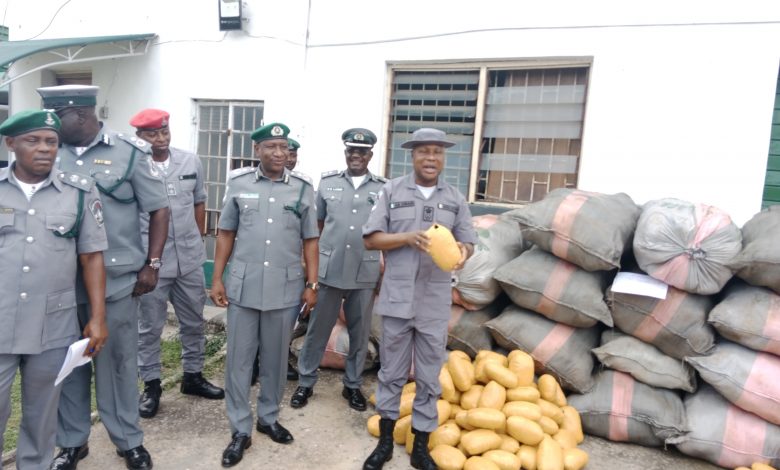 The Customs Area Controller (CAC), Western Marine Command of Nigeria Customs Service (NCS), Compt ABUBAKAR UMAR and his team have demonstrated superior intelligence in their operations against economic saboteurs, as they
intercepted Cannabis Sativa worth over N168million in street value, along the waterways.
Compt UMAR and his enforcement team also seized foreign rice along Badagry waterways. The rice fully loaded in a wooden boat was smuggled from Benin Republic to Nigeria through the waterways; but the Western Marine Customs swiftly intercepted the items using credible intelligence.
Also, on Wednesday May 25, 2022, at about 1900hrs, following credible signal, the operatives of the Command intercepted two wooden boats laden with foreign rice at Oniru Beach. The boats and the smuggled rice were counted and found to be 136 bags of foreign rice.
Addressing Journalists in his maiden press conference, Compt UMAR disclosed that the large quantities of dangerous drugs were
intercepted in a wooden boat at Oko-Aja beach.
He revealed that the
2,520 wraps of Cannabis Sativa weighing a total of 1,437Kg were loaded in 32 sacks.
The CAC frowned :
"This is a case of absolute prohibition and contravenes Section 24(b) of CEMA Cap C45 LFN 2004 as amended".
In fact, with the level of seizures recorded within a short period by the Command, it is clear that smugglers at sea are in for a real battle. Even Compt UMAR, who assumed duties at the Command in February 21, 2022, just few months ago is talking tough, as he pursues smugglers to their trenches.
His words :
"For the period under review, we seized a total of 828 bags of foreign rice suspected to be smuggled from Benin Republic, with Duty Paid Value of N29, 684,000.00 million, (approximately N29.7 million).
"Similarly, operatives of the Command at different locations along Idiroko, Badagry, Bar-Beach and Sea side intercepted different smuggled items, which contravene Section 46(c), 167 and 169 of CEMA Cap C45 LFN 2004 as amended. The seized items are; foreign rice concealed in 35 Jerry cans of Vegetable Oil; 30 kegs of Premium Motor Spirit (PMS); 8 Kegs of Vegetable Oil; 8 Packs of Spaghetti Noodles; 250 Sachets of Pepper Onion Tomato; 71 Pairs of Second Hand Shoes; 10 Sacks of Second Hand clothes; 4 Boats and 2 Engines as means of conveyance."
He pointed out :
"Our action is in line with the Provisions of Section 149 (Powers to search vehicles/ships); and Section 158 (Power to Patrol Freely) of Customs and Excise Management Act (CEMA) Cap C45, Laws of the Federation of Nigeria 2004 as amended".
He emphasised:
"Together with my Officers/Men, we must ensure that no stone is left unturned at achieving our mandate to nip activities of smugglers in the bud along the South Western Waterways and creeks, which is the jurisdiction of our Command."
With approval of the Comptroller General of Customs, CGC Hameed Ibrahim Ali, the seized Cannabis Sativa were handed over to the Commander, Marine Unit of National Drug Law Enforcement Agency (NDLEA), as part of the existing inter-agency collaboration between Customs and NDLEA.
The CAC informed :
"Apart from commitment of Officers/Men of the Command and culture of collaboration existing between the Command and other sister security agencies, the successes that we recorded would not have been possible without the support of the CGC and his Management team.
"Despite our successes, we are poised to strengthening the existing collaboration between the Command and other agencies, in order to achieve greater efficiency and curb the menace of smuggling in our area of responsibility."
He warned :
To smugglers, I want them to know that illicit trade in whatever form is an act of economic sabotage, the Command would ensure that it pursues smugglers to their trenches. Consequently, let me use this opportunity to warn smugglers to desist from unlawful trade, as the Command will soon catch up with them and their illegal wares, with a view to arresting and prosecuting them.
"It is better for them to embrace legitimate trade, so that they can also contribute their quota to the GDP of Nigerian Economy."
FACTS :
More so, when it comes to curbing smuggling on high sea and the creeks, Western Marine Command as the amphibious Arm of Customs has made outstanding performance with spectacular seizures at strategic locations.
Recall that, this same Command in September 2021, made massive seizure of hard drugs worth over N1.1billion in monetary value. Also, before then, Western Marine Command intercepted Cannabis Sativa worth over N1.2 billion on high sea, which remains the largest single seizure of hard drugs ever made by any Command in the history of Nigeria Customs Service.
That exceptional performance earned Nigeria international recognition, as the United Nations Office on Drugs and Crime (UNODC) donated Video Tele-conferencing CISCO WEBEX equipment to Western Marine Command, to assist in its anti-smuggling operations on high sea.
About Post Author