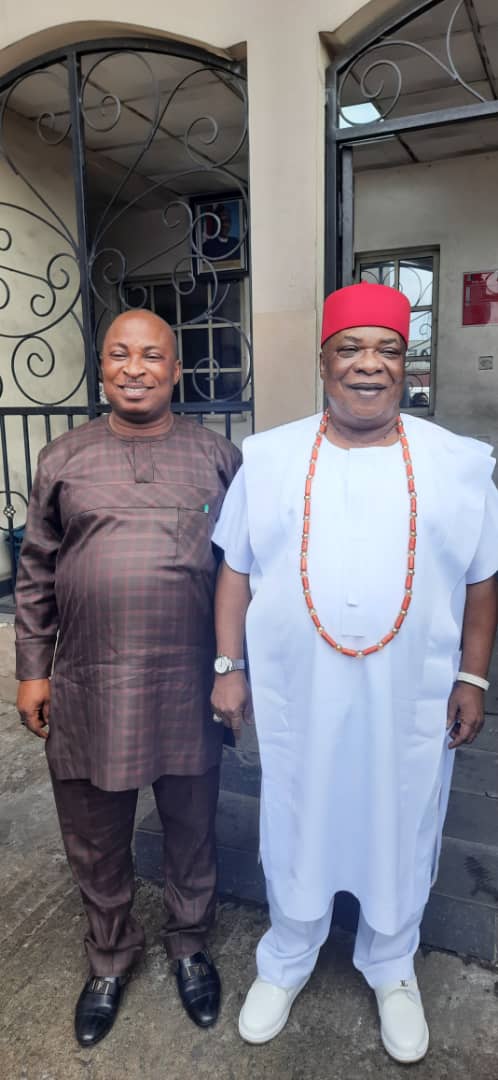 ANLCA's Acting National President, Dr Farinto strategic engagement gets big boost
* As HRM Eze Damian Obianigwe pledges support
The strategic engagement, which is a diplomatic undertaking of the Acting National President, Association of Nigerian Licensed Customs Agents (ANLCA) Dr Kayode Farinto, took him and his entourage to the office of the President General, Association of Igbo Maritime Practitioners In Nigeria (ASIMPIN).
The entourage comprising of members of ANLCA"s NECOM, some Board of Trustees (BOT) members and Presidential aide were welcome by the revered traditional ruler in his office, at FANO Bonded Terminal, along Oshodi-Apapa expressway.
Dr Farinto in his speech said that the visit has become necessary for bonding together and as an acknowledgement of the pivotal role His Royal Majesty is playing in the maritime industry.
He posited that ASIMPIN is one of the most colorful and most influential pressure groups in the maritime sub-sector, which no one can ignore.
According to Dr Farinto, it is in the light of this and in recognition of the leadership quality Ezeoha – de first is providing in ASIMPIN that made him to stand out, even as his competence is highly appreciated in the industry.
The Acting National President appealed to him, to help in making ANLCA formidable again.
Speaking further, Dr Farinto reiterated that the crisis in ANLCA is coming to an end, as he had prophetic revelation that God will purify ANLCA to its glory. He appealed to His Majesty to reach out to ASIMPIN members, who are aggrieved and persuade them to embrace peace.  He maintained that ANLCA is gradually becoming an institution, which members will be players instead of lords.
He said :
"There is nothing ANLCA can not achieve if we are united. We are capable of mobilising millions of votes for a presidential candidate that will be maritime friendly."
In his response, Ezeoha thanked Dr Farinto and his team for showing him such honour. He explained that, he is a member of only two associations ASIMPIN and ANLCA and will remain loyal to the two associations.
His words:
"My prayers and best wishes are for the good of ANLCA's leadership.
I will reach out to those unhappy with the NECOM for them to close rank."
He stressed that time has come for ANLCA to take its rightful place in the maritime space.
The high point of the ocassion was exchange of valuable gifts between the host and the visitors. Members of staff and management of FANO Bonded Terminal used the ocassion to appreciate their Chairman and to congratulate him on his elevation as a first class traditional ruler in Imo State by Governor Hope Uzodinma.
The meeting eventually turned to banquet in which participants got full treat of His Majesty's hospitality.
The Strategic Engagement Initiative continues.
Report by Val Iwuchukwu :
ANLCA National Secretariat_