Revealed :
A Customs Comptroller who goes to work on okada
* His story behind Apapa traffic scene
Weekend Life :
By Udeme Clement
Dear readers, look at the picture above. It is mind boggling, isn't it ?
Of course yes !
This is exactly the situation at Apapa road from Mile -2 axis up to TinCan first gate. While the electronic-call-up system deployed by Nigerian Port Authority (NPA), has successfully eased traffic gridlock along Ijora – Apapa corridor, the on-going construction work is hindering traffic flow at Mile – 2 axis.
The chaotic traffic situation along Mile – Apapa area has become a hydra-headed monster frustrating movement of workers, business owners and residents of that vicinity. Aside adverse effect on economic activities, the traffic logjam poses great danger to human lives, as motorcycle (popularly known as Okada), remains the only means of transportation there.
Our news inquest revealed that many citizens including government officials, even maritime Journalists have suffered injuries from Okada accidents and even loss of lives along that traffic prone area.
Also, some residents within Mile 2 – Apapa communities have abandoned their homes while others relocated their businesses elsewhere, as the traffic gridlock, which didn't start now has become a perennial
crisis defying all solutions.
However, in spite of this health threatening situation, the officers and men of Kirikiri Lighter Terminal (KLT) Command of Nigeria Customs Service (NCS) go to work daily on motor bikes.
In fact, Apapa traffic is taking its toll even on government officials generating revenue for national development.
Our correspondent gathered from a reliable source that even their big boss, the Customs Area Controller (CAC) of KLT Command himself, Compt Hammi Swomen goes to office on Okada also, as the traffic gridlock on Apapa road strips him of the comfort of his official vehicle.
The story behind this traffic scene is the doggedness Compt Swomen brings to bear in revenue generation, trade facilitation and anti-smuggling operations at KLT.
He has successfully rejuvenated the Command with remarkable performance in revenue collection and seizure records that are unprecedented in the history of KLT Command.
Junior officers at KLT described Compt Swomen as disciplined, highly time conscious and very tenacious in handling his statutory duties. His ingenuity has reflected pragmatically in his records.
For instance, last year, he raked in over N32.7 billion revenue for the Federal Government.  For the first time in the history of KLT, the Command realised N4.3 billion in just one month (July 2021), more than 200 percent increase in revenue when compared to N1.6 billion collected the previous year.
The same year, Compt Swomen made seizures of prohibited items, which include used tyres, restricted drugs, vehicles, vegetables oil, expired bottled water and other items.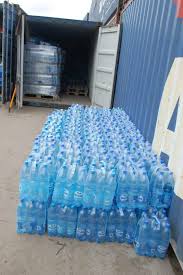 Most spectacular was the seizure of expired bottled water worth millions of Naira, recorded in April 2021. That particular seizure saved many innocent Nigerians from the health disaster of consuming that killer water.
Those were not all.
In the last quarter of 2021, the same Command under the leadership of Compt Swomen recorded massive seizure of 24 containers of Charcoal. The CAC and his team through intelligence foiled illegal export of the 24 containers of Charcoal.
Thus, in 2022, Compt Swomen began the year with another huge seizure. Precisely in February 2022, the Command intercepted two containers of restricted drugs (Codeine Cough Syrup), concealed with manual blenders. The drugs imported from India as the country of origin were labelled for export only, with DPV of over N212.77million.
Our investigation revealed that Compt Swomen is using ingenuity to navigate Apapa traffic gridlock and carry out his official assignments promptly.
He has completely rejigged the operational structure of KLT, making the Dispute Resolution organ of the Command a one-stop-shop system linking the Customs Processing Centre (CPC), Valuation Unit, Customs Intelligence Unit (CIU); Post-clearance Audit (PCA); and other units to a single desk.
With the one-stop-shop system in place, issues and complaints coming from various areas are resolved within the shortest possible time, to enhance seamless cargo clearance from the Command.
As such, despite KLT Command being the worst hit by traffic gridlock along Apapa road, its revenue profile and seizures are skyrocketing following fresh impetus brings to bear by the CAC, who is exemplary in leadership.
Observation :
Five days ago, the Executive members of Maritime Journalists Association of Nigeria (MAJAN), embarked on a tour of Apapa port access road, to see activities around the port corridors. It was observed that the major access road from Mile -2 to KLT was completely blocked by trailers.
The traffic gridlock extended from Mile -2 bridge to Auto-wharf, Kirikiri axis linking Vanguard Newspaper to KLT main entrance, up to coconut bus stop and TinCan gate, such that even movement on motor bike was extremely difficult.
About Post Author