Compt Oloyede talks tough on container flying from port:
* Says No landing certificate, no transire from TinCan Port Command to ware houses
* Intercepts 6 exotic cars
* Rejigs conflict resolution unit
The Customs Area Controller (CAC), TinCan Island Port Command, Comptroller Adekunle Oloyede has said that every transire for cargo transfered to bonded terminals must come with a landing certificate.
Transire is a document that permits a container or cargo to be released from Customs control. The document gives vivid description of the cargo, the consignor and the consignee.
Compt Oloyede said the use of Customs transire becomes imperative to tackle allegations of incessant flying of containers from the seaport without payment of import duty as revenue to the Federal Government.
Compt Oloyede made these assertions during interactive session with Journalists, at the maiden press conference organised by TinCan Port Command.
Compt Oloyede stated emphatically that TinCan Command under his watch will not sign any transire to bonded terminals or ware houses without landing certificates signed from such destinations.
The CAC pointed out :
"We have not had any case of container flying at TinCan Command since I assumed duty but the could be issues.
"As such, we had a meeting with Five Star Logistics, the two terminal operators: Clarion as well as Classic. We entered into another Standard Operating Procedure for transire, which every transire must come back with landing certificate signed from appropriate destination.
"Without that landing certificate within a given period of two weeks or maximum of one month, I will not sign any other transire to such location again."
He revealed :
"This is the Standard Operating Procedure we all agreed upon. Therefore, to finetune this procedure, we are also arranging a meeting for all stakeholders to deliberate on the issues".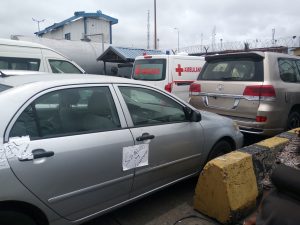 He added :
"For instance, about few weeks ago, we had credible intelligence that some vehicles which were not supposed to be part of the transire were infused into the list that I approved, I can tell you that 6 of those vehicles are at the Enforcement Unit right now.
"While they were trying to pass through the gate, the officer there saw everything and informed me. Immediately, I told him to liaise with the DC Enforcement and from there, we removed the 6 vehicles"
Responding to questions on the functionality of Conflict Resolution department created to handle complaints from stakeholders, Compt Oloyede informed that the structure of this particular unit has be rejigged to speed up all processes, in order to save time and enhance operational efficiency.
His words :
"At present,Conflict Resolution Unit is now a one-stop-shop desk to resolve all issues of documentation, revenue, valuation and other complaints within that particular desk in the shortest time possible to enhance trade facilitation.
"At TinCan Command, we are highly time conscious because we must facilitate trade for optimum economic development
"In fact, we have stakeholders engagement daily to address issues as they come. I believe in stakeholders engagement and NOT to down-tools, which gives room for accumulation of demurrage that is eventually passed to the final consumers".
The CAC enthused :
"It is instructive to note that the Command's Operations drew inspiration from the theme of the International Customs Day, 'Scaling up Customs digital transformation by embracing a data culture and building a data ecosystem.
"The Command continues to leverage on this theme to harness such facilities made available on NICIS II platform, such as the Pre-Arrival Assessment Report (PAAR), Advance Manifest, Selectivity Engine and data analysis, which to a large extent enhanced our risk management Processes culminating into trade facilitation, expedited customs processes and ensuring the collection of appropriate duties and taxes".
About Post Author