Compt Oloyede, the tactical strategist :
Rakes in N135.4bn revenue
* Hits N56.2bn exports
* Seizes 8 containers of machetes, 145kg Colorado drugs, others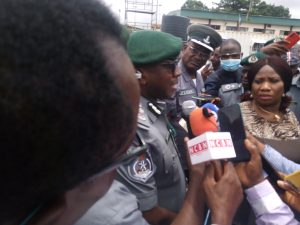 The TinCan Island Port Command of Nigeria Customs Service (NCS), was the beehive of activities yesterday, as the new Customs Area Controller (CAC) of the formation, Compt. A.A.S. Oloyede unveiled a remarkable score card in the first quarter of 2022, showing what could be described as tactical strategies in huge revenue collection for the Federal Government, a big boost in export trade facilitation, renewed vigour in anti-smuggling drive and proactive steps to protect national security of Nigerian nation.
Compt Oloyede, who is bringing fresh impetus to bear in Customs operations, raked in over N135.4billion revenue for the Federal Government from January to March, 2022. The whopping amount generated shows an improvement of N22.7 billion, which translates to 20.18 percent increase, when compared to N112.695,693,158.66 billion realised the same period in 2021.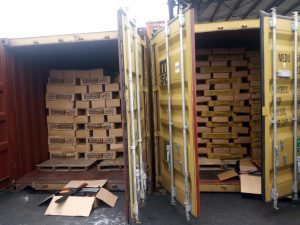 The Command also recorded 71,014.4 metric tons of exports, with total Free-On-Board FOB value of total N56,205,901,295.00 billion from January to March 2022, which surpassed 44,502.9 metric tons with FOB value of N31,371,825,954.00 billion realised the same period in 2021.
Comparatively, from January to March 2021 and 2022, the tonnage of goods exported through TinCan Port Command increased from 44,502.9 metric tons to 71,014 representing an increase of 62.67 percent. Also, the FOB value in Naira increased from N31,371,825,954.00 billion to N56,205,901,295.00 billion reflecting an increase of N55.82 percent within the period under review.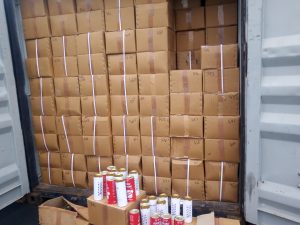 Commodities exported through the Command include Copper Ingots, Stainless Steel Ingots, Sesame Seeds, Cashew Nuts, Cocoa Beans, Rubber, Cocoa Butter, Leather, Ginger and frozen Shrimps, among others.
Giving explanation on high export trade, Compt Oloyede said : "My target is to make TinCan Port Command export friendly. To achieve this, I had a strategic meeting with the TinCan Island Port Manager of Nigerian Ports Authority (NPA) and we deliberated on it.
"We equally designed a winning formula. So, I looked at the operational procedures of our officers and carried out some changes. That is the reason we achieved this increase of over 62.6 percent in exports".
The high point of the event was a visit to the terminal, where Compt Oloyede and his officers unveiled mind-blowing seizures of eight containers of matchetes imported from Ghana containing 206,000 pieces without End-User Certificate; 145kg of Colorado drugs concealed in two units of Ridgeline trucks; 640 bales of used clothes; a container fully loaded with Novalgen injection but falsely declared as static converters; a container load of Chloroquine injection; 236,500 pieces of used shoes; 62,500 pieces of new shoes for ladies; 48,850 rolls of cigarettes; 23,800 tins of sodium bromate- baking powder,. among other prohibited items worth over N1.048 billion in Duty Paid Value (DPV).
Compt Oloyede, who is highly skilled in Customs operations, also a WCO Certified Resource Person, pointed out :
"The import of these products contravenes Sections 46, 47 and 161 of the Customs and Excise Management Act (CEMA) Cap 45 LFN 2004".