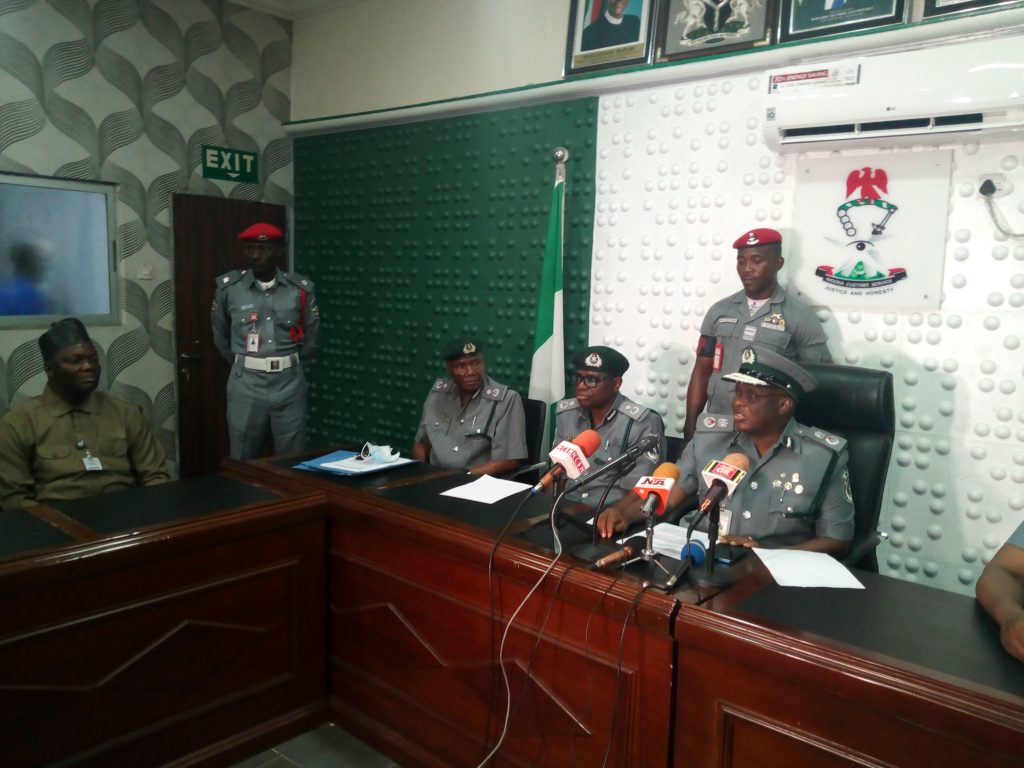 Impeccable revenue statistics :
Apapa Customs hits N264.5bn collection in first-quarter of 2022
* Records over N34bn exports, N1.1bn seizures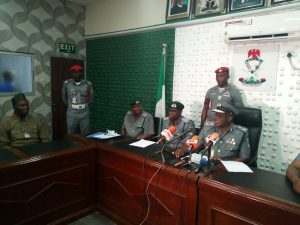 The Apapa Command of Nigeria Customs Service (NCS), has achieved what can be described as impeccable revenue records with a huge sum of over N264.5billion collected in first-quarter of 2022.
The Command also facilitated more than N34billion exports, even as its seized prohibited items worth over N1.1billion in Duty Paid Value (DPV).
Most remarkably, the Command surpassed its monthly revenue target of N70 billion.
The Customs Area Controller (CAC), of the Command, Compt Yusuf Malanta Ibrahim disclosed these details during a press conference on
activities of Apapa Customs in the last three months, (January- March 2022).
Compt Malanta, who has recorded astronomical revenue increase at Apapa Command since last year pointed out :
"In the period under review, the Command collected N264,536,201,293.71 billion. This shows significant increase of N104 billion, as against N159 billion collected the same period in 2021, which represents an increase of 65.7percent in revenue generation."
He went on :
"This feat was made possible because of our officers' creativity, leveraging on the Service Information Technology (IT) platform to ensure all revenue leakages were mitigated, as well as sustaining the level of compliance by importers/stakeholders in the clearance value chain".
Giving more details on anti-smuggling achievements of the Command, Compt Malanta informed :
"Anti-smuggling drive has been a matter of central concern in the Command, particularly with the activities of recalcitrant traders, who are always looking for ways to undermine our system. The enforcement unit has been strengthened through strict monitoring, enhanced collaboration and sharing of credible intelligence with relevant government agencies to suppress smuggling to its barest minimum.
"Thus, the Command recorded 46 seizures of various items worth N1,142,876,606.00 billion, as against 28 seizures made in the corresponding months of 2021. These seizures include unregistered medicaments such as tramadol and codeine syrup. Others are unprocessed wood, used clothes footwear, foreign parboiled
rice and other sundry items under prohibition list.
"These importations are in clear contravention of sections 46 and 47 of Customs and Excise Management Act, CEMA CAP C45 LFN 2004".
He continued :
"let me reiterate that Apapa Command is always ready to assist in facilitating legitimate trade and ensuring that all forms of smuggling activities through faise declaration on import/export done in defiance to extant trade guidelines will be detected through our layers of control mechanism."
On export trade, the CAC said :
"In line with the Federal Government efforts to diversify the economy through non-oil export, the Command recorded exportation of agricultural goods, mineral resources and steel for the first quarter of 2022.
"Statistics from the export report indicates that goods worth N34,072,869,799.00 billion, with Free On Board (FOB) value of $87.992,356.10 million were exported as against N30.2 billion, which is equivalent to FOB value of $82.1 million from January to March 2021".
His assertions :
"I want to seek the indulgence of our esteemed stakeholders to join forces with the Command and ensure that items on  import/export prohibition list are strictly adhered to. We also urge them to prepare themselves for the emerging realities of Customs examination through non intrusive inspection (NII) regime.
"The non-intrusive inspection regime is
targeted at increasing volume of cargo inspection, saving cost/clearing time,
storing reliable data and Images for reference purposes to reduce human
contact in examination of containerized cargoes leading to delay in the
clearance time".
He enthused :
"The achievements recorded by the Command earned us remarkable letters of commendation from the Comptroller-General of Customs, CGC Hameed Ibrahim Ali and his entire management team. This further strengthened our drive to sustain the tempo in discharging our responsibilities.
"On this note, I want to respectfully extend my profound appreciation to the CGC and his Management team for their unwavering support, government agencies in the port for collaboration, Officers and men of Apapa Command for their tireless commitment, our compliant stakeholders and the media for their unalloyed support".
About Post Author