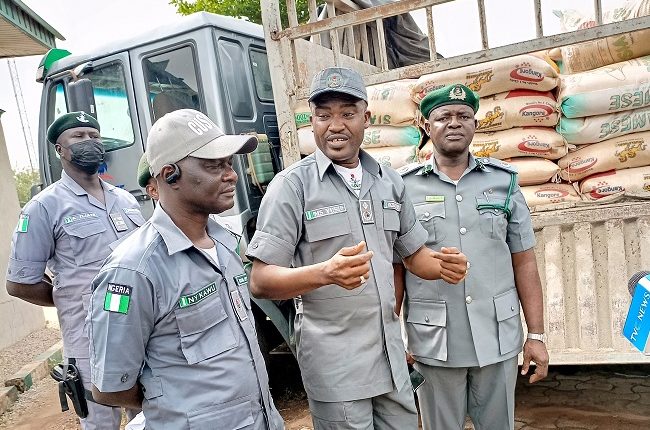 Anti-smuggling onslaught in South West :
Customs Strike Force battles to run smugglers out of town
* Makes massive seizures worth over N373.6million
* Arrests 2 suspects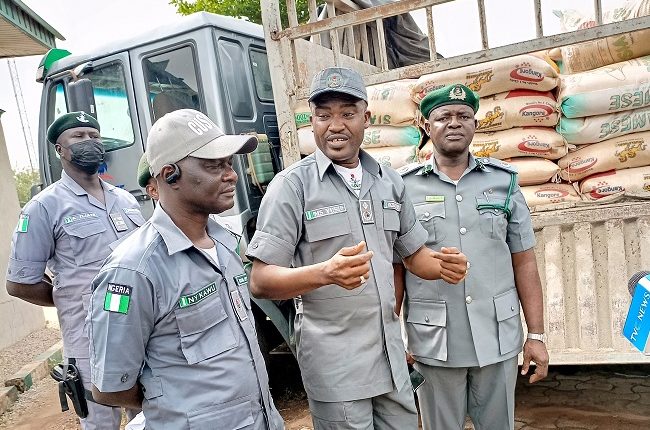 It has been one month of heated anti-smuggling onslaught in the entire South West area of the country, as the Customs Strike Force battles to run smugglers out of town.
The Strike Force team under the leadership of Deputy Comptroller Mohammed Sani Yusuf, as the new Coordinator, left no stone unturned, as they defeated smugglers, making massive seizures of prohibited items worth over N373.6million in Duty Paid Value (DPV) within that short period.
DC Yusuf and his men swiftly arrested two suspects in connection with some of the seized items
The team also realised a whopping sum of N648.3million revenue through Demand Notices (DNs) raised for trade goods with duty under-payment within the same period
Most impressively is their modus-operandi in making seizures, which must have rattled economic saboteurs in their area of responsibility.
The Strike Force team says no hiding place for illicit traders, as DC Yusuf and his enforcement officers are spreading their dragnet even to corporate vehicles used in smuggling prohibited items. For example, Dangote cement truck used in conveying smuggled rice was equally intercepted.
Items seized in four weeks of operations include 1,000 bags of foreign rice; 3 by 20ft containers of timber; 3,143 used tyres; 320 bales of used clothes; 44 sacks of Donkey Skin; 137.3kg of Cannabis Sativa and 663 sacks of used shoes, among others.
Addressing reporters at the scene where the seizures were displayed in the open, DC Yusuf asserted :
"I am glad to say that within a period of one month, the reconstituted Strike Force Team 'A' has collected N648,300,986.00 as revenue through Demand Notices. It also made seizures worth a total duty paid value (DPV) of N373,629,700.
"I want to reiterate very sternly that we don't believe in settling down before executing our task in such a sensitive assignment as this. Therefore, smugglers who thought they could take advantage of the recent changes to carry out illicit trade are disappointed."
More so, DC Yusuf urged importers, Licensed Customs Agents, as well as Freight Forwarders to comply with the rules of engagement in their operations by ensuring honest declarations at all times.
He said emphatically; "With the Strike Force team on ground, there will be no hiding place for economic saboteurs; or those trying to cut corners".
He went on :
"We are working 24 hours from day one and illicit traders will have us to contend with any time they dare to perpetrate illegal act, either during the day; or at night. Our operatives are relentless and uncompromising as far as this task is concerned."
DC Yusuf stressed :
"What you are seeing in terms of these seizures is just the beginning of a heated anti-smuggling action we embarked upon in the entire South West area of the country. We are ready to run smugglers out of town with the full support of CGC Hameed Ibrahim Ali. This task aims at protecting the nation's economy, preventing dangerous importation as well as exportation that contradicts government's policy.
"Our interdiction capacity is recharged for round-the- clock operations against smugglers and those attempting to circumvent the law".
Responding to questions on the seized Cannabis Sativa,, DC Yusuf said the items will be handed over to National Drug Law Enforcement Agency (NDLEA), in  the spirit of inter-agency collaboration.