How Customs at KLT Command seized N212.7million dangerous drugs
* News update captured with specific photos at the scene
The massive seizure of N212.7million worth of dangerous drugs recorded by the Customs Area Controller (CAC) of Kirikiri Lighter Terminal (KLT), Compt Hammi Swomen and his team is still in the news.
Our news inquest revealed that Compt Swomen deployed credible intelligence to track the deadly cargo. He began trailing and profiling the containers for days until the drugs were eventually uncovered.
Responding to questions on how the large quantities of these restricted drugs were intercepted, he pointed out; "We were on the trail profiling the containers but no declaration was made. This is a remarkable seizure made possible through collaboration with other sister agencies.
On what he is bringing to the table in 2022, looking at his impressive performance last year, he enthused :
"This is the month of February 2022. You can see the quantities of items seized by the Command.
So, we have started well and will sustain the tempo and even surpass the achievements made in 2021".
In fact, this mind-blowing seizure will certainly send a warning signal to illicit traders to desist from illegal importation or be ready to lose their wares and even face prosecution because Compt Swomen is a no nonsense officer.
As a Customs officer, he personally served as a witness for the Service at High Court in Abuja where a suspect was sentenced to jail for smuggling prohibited items.
The seized items loaded in two 40ft containers include 2,493 cartons of cough syrup with codeine (100ml); 383 cartons of Barcadin with Codeine (100ml); 49 cartons of Hyegra (Viagra 220mg) and 99 cartons of Delux chilly cutter (manual blenders)
Our Correspondent captured the update in photo news as shown below:

Compt Swomen and his officers stepping into Port Express terminal where the seized items were unveiled :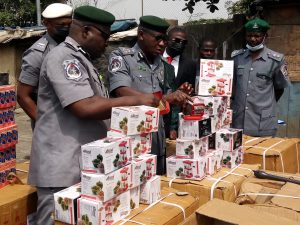 Compt Swomen and his team displaying the seized items before reporters :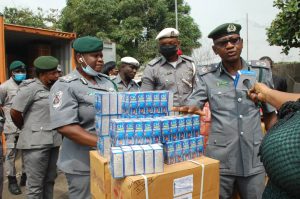 The CAC and his team during interview with reporters at the terminal :

The seized drugs and the containers used for illegal importation :
About Post Author