Swift Intervention to save Nigerians :
Customs FOU Zone 'A' records N4.5bn seizures
* Intercepts trailer load of expired drugs
* N3.7bn worth of Tramadol
* 17 Trailers of smuggled Rice
* Foreign rice concealed with cement in 40ft truck
The Customs Area Controller (CAC),
Federal Operations Unit (FOU) Zone 'A', DC H. Ejibunu and his enforcement officers have demonstrated what can be described as swift intervention to save the lives of innocent Nigerians from consumption of killer items.
The items include foreign rice fully loaded in Dangote truck but
concealed with Cement, which has high acidic content that is very harmful to the human body.
Pharmaceutical products loaded in 40ft truck, which had expired since 2019 but were smuggled into Nigeria illegally to the detriment of public health.
7,557,400 tablets of tramadol worth over N3,774,600,000 (approximately N3.8billion).
In fact, as the CAC took reporters round the premises where the mind-boggling seizures were kept, what the eye saw revealed an ugly sight of callousness, greedy commercial system moved by man-inhumanity-to
-man and cruel disregard for human lives.
There were seizures everywhere, from the warehouse beside the Training College up to the workshop across the major road. While some prohibited items were loaded in trucks, others were just displayed in the open. Even the inner warehouse was filled to the brim with seizures, mainly rice.
The total Duty Paid Value (DPV) of the seized items was put at a whopping sum of N4,590,312,335,00
(approximately N4.6billion).
The Unit also recovered 192million revenue for the Federal Government.
within the period
under review
Most outstanding is the fact that these massive seizures were made by DC Ejibunu and his men in less than two months.
He said: "While many travelled to enjoy the yuletide season, our operatives were out there in the field to prevent illicit items from being smuggled into the country. From December 23, 2021 till date, a lot more have been seized."
DC Ejibunu, who frowned at the nefarious activities of illicit traders disclosed that his team swiftly apprehended 23 suspects in connection with some of the seizures; out of which five had been granted administrative bail while 18 are still in custody.
The CAC informed :
"The tramadol tablets and other expired pharmaceutical drugs were seized based on credible intelligence at Monkey Village within Kirikiri area of Lagos.
State, other contraband items were intercepted at various locations across the country under the unit's jurisdiction, even Dangote Cement truck used as means of rice conveyance was equally impounded".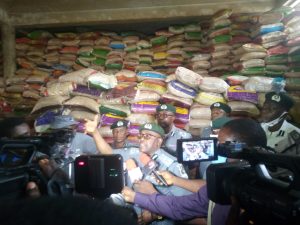 Giving more details on the seizures, he pointed out : "The breakdown of seizures made include; foreign parboiled rice: 9,675 bags at 50kg each; 297 bags at 25kg each; 30 bags at 10kg each; 403 bags at 5kg each; 240 bags at 1kg each; 3,173 cartons of Basmati Rice at 5kg each (about a trailer load) and 1,076 kegs at 25litres of Premium Motor Spirit (PMS).
"Others are: 195 bales of used clothes (two trailers); 51 parcels of (39.5kg) Indian hemp; 68 sacks of used clothes; 2,535 pieces of used tyres; 17 units of used vehicles; one truck of frozen poultry products; 199 bales of 600 yards of Ankara (one container); 448 cartons and 12 tins of tomato paste (one container); 206 used compressors; 7,557,400 tablets of Tramadol at 225mg each; 7 units of used motorcycles; 21 bales of new bed-sheets and 57 units of used plasma TV, with a total DPV of 4,590,312,335.00
"The expired drugs are; 476 cartons of ShkaPain tablets, 104 cartons and 37 sacks of Hiegra (Men stimulant) tablets."
He added : "We must give glory to God Almighty for the year gone by. Despite the ups and downs, the Unit waxed on positively in the fight against smuggling. It is only regrettable that we lost four gallant officers in the line of duty that same year. If there is anything the Unit will not condone, it is to lose any of our officers to smugglers this year.
"New approach and tactics strictly to our minds will be deployed this time around. smugglers are by this warned to desist.
from economic sabotage.
"We cannot but justify the confidence reposed on the Unit and the untiring support of the CGC and his Management. We are equally well equipped with relevant Sections of Customs and Excise Management Act CAP C45 LFN 2004 as amended to perform our legitimate duties without fear or favour.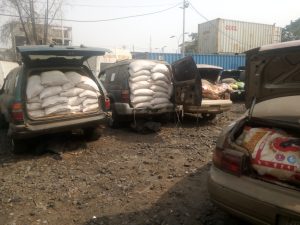 "Some of such provisions are; Section 158 – Power to patrol freely, Section 11- Power to arrest and prosecute anyone seen to obstruct officers from performing their duties, Section 46 – Power to seize, Section 147 – Power to enter any premises without search warrant and many more".
Observation at the scene :
Our Correspondent noted that the truck loaded with expired pharmaceutical products was sealed and welded with iron bars for security reasons.