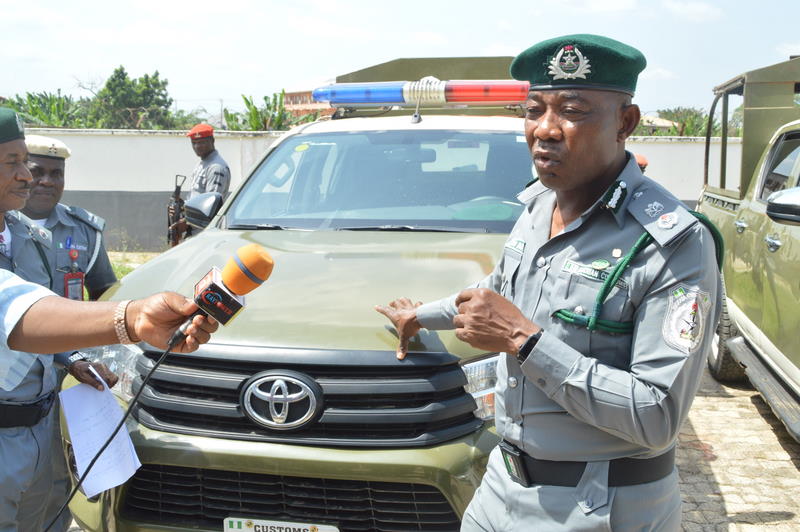 Compt Dera Nnadi Applauds Customs management on provision of 10 patrol vehicles
* Warns smugglers against nefarious acts during ember months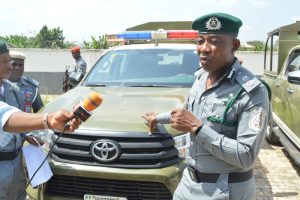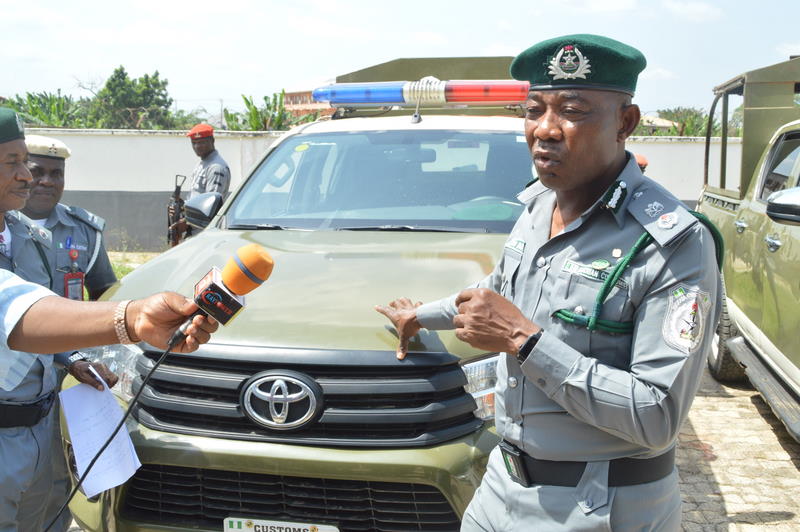 The Customs Area Controller (CAC) of Ogun 1 Command, Compt Dera Nnadi has applauded the Comptroller-General of Customs, CGC Hameed Ali, and his Management team for the provision of 10 new operational vehicles for the Command.
Compt Nnadi, who showcased massive seizures worth over N172.9million, made in just one month, expressed appreciation for the logistics support received from the CGC.
While thanking the CGC for the 10 vehicles, he appealed to the Customs Management for more patrol vans.
"I thank the CGC for empowering us with work tools. We are most grateful to the Management. We will appreciate if we get 10 more Vehicles.
He stressed that his Command will put the vehicles into proper use, to curb nefarious activities of smugglers in all nooks and crannies of Idiroko,
the border area between Nigeria and Benin Republic
His words :
The Command received 10 units of brand new Toyota Hilux vehicles.
We thank the CGC for the new Vehicles and we promise to leave no stone unturned in the fight against illicit trade.
"For an effective anti-smuggling operations, we thank the Comptroller General of Customs and the Management for their kind consideration in providing these vehicles for the Command.
"It is a demonstration of Management support and encouragement to Ogun 1 Command. It is proof of Management commitment to quality service delivery to the nation. This gesture will no doubt enhance our operations and improve our performance".
Nnadi, who is highly experienced in Customs operations emphasised that his operatives are fully on ground and will thwart illegal activities of economic Saboteurs.
Responding to questions on his readiness to tackle smuggling during the ember months, when criminal activities are always on the rise, Compt Nnadi sent a strong warning signal to illicit traders in his area of coverage.
He warmed economic Saboteurs to desist from illegal activities, as the Command will not hesitate to seize their wares.
He stressed : "Let me once more warn smugglers and criminal elements in the State that we shall definitely uncover every illegal act of theirs. make arrest and inflict gross financial injury on such ventures and their perpetrators.
Seizures :
Spectacular seizures made in one month include 7311 bags of 50kg foreign parboiled rice, equivalent to 12 trailer loads, which also translates to 365, 550 kg or 365.55 metric tons of foreign parboiled rice.
vegetable oil: 12 kegs of 25 litres size, that is 300 litres; vehicles used as means of convegance – 20 , units;
motorcycles used for convegance – 2 units; second-hand clothings – 4 bales of 25kg each and sacks; used shoes – 26 sacks; Cannabis Sativa –
124 sacks (book size) and 165 wraps (coconut size), weighing
637 kg; used tyres – 2 bundles and 4 pieces with rims; Premium Motor Spirit
(PMS) – 831 kegs of 25 litres each, (20,775 litres almost a full tanker; frozen poultry products – 810 cartons; used toys
4 sacks.
The cumulative Duty Paid Value (DPV) for all the above seizures amounted to over N172.9million.
The CAC beside the patrol vans while addressing Journalists :