ANLÇA National President, Hon. Tony Iju Wins Prestigious Award as Outstanding Freight Forwarder of the year
* High Chief Iju Ozubulu:
One personality, many accolades
The Amiable National President, Association of Nigerian Licensed Customs Agents (ANLCA), Hon. Iju Tony Nwabunike, is a personality with numerous accolades.
Just three days ago, precisely on Thursday, November 25, 2021, he was crowned with another prestigious Award as; 'Freight Forwarder of the year.
This well deserved honour was bestowed on ANLCA's helmsman, Hon. Tony Nwabunike, the High Chief Iju Ozubulu, by Crime Reporters Association of Nigeria (CRAN), in Lagos.
The process leading to the Award presentation was an interesting moment, as Hon Nwabunike came top on the list of nominees with the highest number of votes. The recognition he received followed his outstanding achievements and enormous contributions to the maritime industry in Nigeria.
As a Great Colossus, High Chief Iju Ozubulu has no hiding place. His accomplishments in the society often stand him out for recognition. The 'Freight Forwarder Award of the year is just one out of many accolades conferred on him by reputable organisations.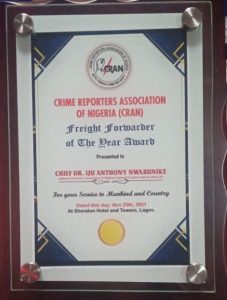 In his remarks; Hon Nwabunike described the honour as most outstanding Freight Forwarder of the year as recognition he appreciates most among numerous accolades received in over 30 years of his career in maritime.
He enthusd ; "I want to appreciate you all my friends in the media.
I must say that of all the awards I have received over time, I cherish being honoured as the most outstanding freight forwarder of the year.
This is because as Journalists, many of you who participated in the nomination and voting processes must have done thorough screening before coming to the conclusion to vote me for this great honour. I appreciate it very much."
Recall that Hon Nwabunike won the Award as 'Best Customs Brokerage Agent, conferred on him by Maritime Reporters Association of Nigeria (MARAN) in 1999. He also emerged the 'Most Enterprising Shipping Agent in 2002, following his operational competence in maritime trade and logistic management, among other Awards
When it comes to Intelligence, Hon Tony Nwabunike has it. If you talk of personality, he has the charisma. Business wise, he is an astute entrepreneur. In the political class, he is very popular. In the social circle, he is highly respected. For instance, just few days ago, he spoke as Chairman of occasion at Lions Club.
At present, he is the Chief Accounting Officer of Mac-Tonnel Nigeria Limited, a Customs Brokerage company with investments in Maritime, shipping, logistics and transport services.
He was the pioneer Chairman, Council for the Regulation of Freight Forwarding Practice in Nigeria (CRFFN), with sound academic profile in Business Administration, Management, Political Science and others.