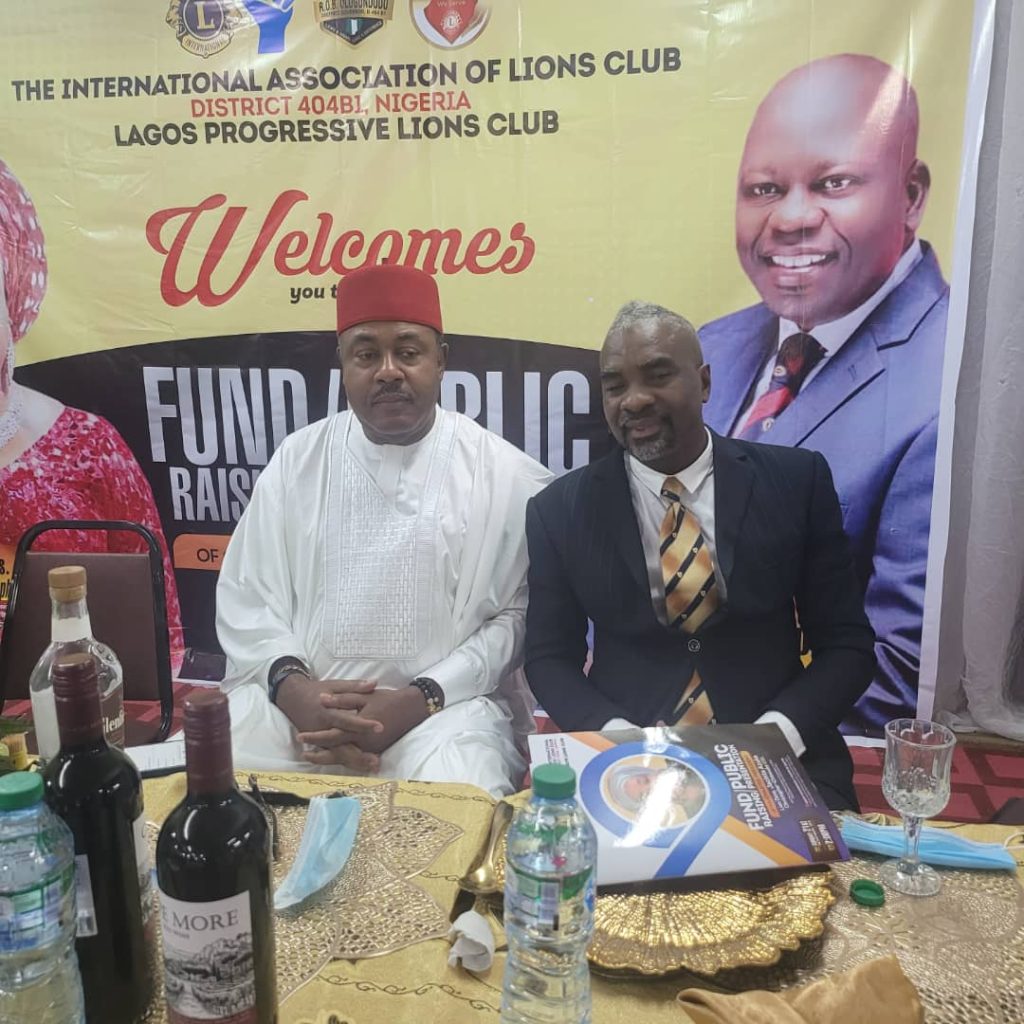 ANLCA National President speaks at Lions club as Chairman of occasion
* Calls for private sector support to tackle unemployment, poverty
* Lions Club is shining example of service to humanity – Hon Tony Nwabunike
It was a gathering of high-class personalities, Chief Executive Officers of Companies, accomplished entrepreneurs, Frontline politicians, captains of industries and philanthropists from all walks of life, at Lions Club, Ikeja, Lagos.
It was the occasion of fund raising and public presentation, organised by the International Association of Lions Club District 404B1 Nigeria, yesterday.
The programme, which featured a lot of activities also focused on raising funds to support the less privileged and indigent ones in the country.
Most interestingly, the indefatigable National President, Association of Nigerian Licensed Customs Agents (ANLCA), Hon. Prince Tony Iju Nwabunike, was the Chairman at that special occasion, a very colourful ceremony. It was in deed a memorable event, as the Amiable President of ANLCA, spoke in the midst of Lions.
His assertions :
"I am highly delighted to be invited to this event.
It synchronises with my personal philosophy. It is also coming at a time when the imperative of the haves supporting the have nots stares at us.
"As a selfless individual,
I have followed the activities of the Lions Club and I am happy to note that the body is a shining example of service to humanity aims at making the world a better and comfortable place for all."
Hon. Nwabunike, who is also the Chief Accounting Officer of Mac-tonnel Nigeria Limited, enthused ;
"Since its establishment in 1917, Lions Club International has proven to be a body worthy of emulation by other groups with similar goals. This is truly instructive."
Hon Tony Iju went on;
"Indeed, its clubs are places where individuals join together to give their valuable time and efforts to improve their communities and the world.
"While reminding us all that everyone has something to give, none is too poor to offer something for the good of others.
Ranging from giving out your time to serve others, deploying your skill and knowledge to selfless service, donating material things including cash for the benefits of less privileged, the avenues to reach out are limitless".
He emphasised ;
"Lions have provided a veritable platform, helping its members to pull resources together and harness such resources for common good. We are in trying times, where governments alone cannot solve all the needs of the people and increasing demands for support by members of our immediate and extended communities stares at us.
"We have found ourselves in a clime where governments have to borrow to meet people's needs and we cannot leave all the tasks to governments alone. People must continue to help others from the little they have."
The Mac-tonnel boss pointed out; "Corporate Social Responsibility (CSR), is like companies giving from their gains back to the society. For us as individuals, it doesn't matter if we gain at all. We are daily opening up to the ideal of sharing our last meal with our neighbours who do not have.
"Giving, therefore should not be transactional but a total way of life, without expecting any rewards from the receivers
We must never wait to feel a sense of richness before giving because this is the essence of life itself. There can never be a better time to give than today and now."
He stressed ; "Let's keep doing this as attributes we can bequeath to our kids and generations unborn. It is our own small way of making the society better than we met it. While insecurity was creating humanitarian challenges across various communities in Nigeria, natural disasters like erosion and flooding also exposed our vulnerable population to risks.
"As a country, Nigeria was already battling with high level of poverty, unemployment, poor medical facilities, inadequate provision for primary education for pupils, poor shelters and others before COVID-19 struck. We should look for ways to help out.
"COVID-19 itself further heightened our national vulnerability and impressed on us the need to do more. It has reshaped us in many ways, stretching resources, creating new challenges and forcing us to do things differently .
"I understand, today's event is one of your many ways to raise funds for the noble course you pursue in the interest of the poor, vulnerable and less privileged. It is also a service function where we seek to give and not expect rewards.
"As one who has subscribed to a life of service as an infinite informal contract with my conscience, I whole heartedly support this move and urge you never to relent.
"While thanking you for the opportunity to be part of this noble activity,
I will leave you with the words of Anne Frank , a Jewish diarist, who went through the difficulties of hiding with her family from hardship and torture from Hitler led German government that "No one has ever become poor by giving ".
*Below are pictures taken during the programme :