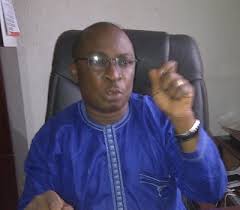 ANLCA, NAGAFF working synergy has come to stay – Dr Farinto
* Harps on effective collaboration as way forward for practitioners
In a bid to reposition the freight forwarding sub-sector for greater productivity, the Association of Nigerian Licensed Customs Agents (ANLCA), has reiterated its commitments to work in synergy with other practitioners in the maritime industry.
ANLCA as the foremost freight forwarding association in the country harps on working collaboration as the best way to address numerous factors militating against maritime trade in Nigeria.
Speaking on the importance of effective collaboration, the Vice President of ANLCA, Dr. Kayode Farinto stressed the urgent need for practitioners to work with unity of purpose to address bottlenecks on cargo clearance chains at the seaport.
Dr Farinto explained that Licensed Customs Agents, who are members of ANLCA, practitioners under National Association of Government Approved Freight Forwarders (NAGAFF); and other associations face similar challenges in the industry, as such coming together will foster a formidable front to address such issues.
The ANLCA Vice President pointed out that lack of synergy among practitioners in the past portrayed them as un-organised groups before Customs and other agencies operating in the port industry.
To Dr. Farinto, synergy among ANLCA, NAGAFF and other groups in the industry is the best way to go. He acknowledged pivotal roles these groups play in logistics management and maritime trade in moving the nation's economy forward.
He emphasised that lack of synergy contributed to serious division among them in the past. Therefore, coming together now will strengthen their capability to speak with one voice, especially on important issues concerning cargo clearance and welfare of members.
Dr. Farinto condemned in strong terms the sentiments by some aggrieved members of ANLCA, who are against the working synergy, describing them as being narrow-minded and backward in their thinking.
Recounting what took place during the recent visit to National Assembly by practitioners, Dr Farinto said collaboration is in the best interest of members, adding that one association cannot achieve something tangible by working in isolation.
Farinto stated emphatically that following their registration with Council for Regulation of Freight Forwarding Practice in Nigeria, no association is superior to another.
In that capacity, the coming together of various groups will benefit practitioners now and in the long-run.