Operational efficiency : Compt Ngozi harps on Inter-agency collaboration
Visits Nigerian Army, Police, Civil Defence, Immigration, others
The Customs Area Controller (CAC), Ondo/Ekiti Command of Nigeria Customs Service (NCS), Compt. H. U. Ngozi, has pragmatically demonstrated that effective Inter-agency collaboration is key to anti-smuggling operations, especially on area of sharing timely Intelligence to protect the nation's economy from illicit traders.
Compt Ngozi did this through her working visits to various agencies within her area of coverage.
For instance, she visited Ekiti State Command of Nigerian Security and Civil Defence Corps
(NSCDC).
Speaking during the visit, Compt Ngozi appauded the effort of the Corps in protecting critical national assets and infrastructure, while stressing that the two Federal Agencies should work in synergy to curb smuggling and other heinous acts that are inimical to the safety, and security of the people, as well as economic growth and development.
These, she said are preventable through synergetic efforts and intelligence sharing.
She stressed that the relationship between the two organisations should be promoted, so that the working environment of Nigerians can be free of fear and other hindrances.
In her words,. "When we are fighting smugglers, you people are fighting vandals; with vital intelligence sharing, we would be ahead of them."
Compt. Ngozi commended NSCDC for reducing incessant cases of petroleum pipeline Vandalism in Nigeria, which has translated into stability of petrol supply to Nigerians.
This, according to her is one of the basic reasons why tax payers money is being expended on government Agencies.
The State Commandant of Civil Defence, John Fayemi, in response thanked the CAC and promised greater working synergy.
Compt Ngozi, is known for hard work and resilience in her areas of statutory responsibilities.
She is always very proactive in carrying out her official assignments.
She has served Customs in various capacities before being posted to Ondo/Ekiti Command.
Not too long ago, she served as Area Controller of Oyo/Osun Command.
She is also a reformer.
Her managerial competence can be seen in her outstanding performance within the short period she worked in Ibadan.
It is on record that she transformed Oyo/Osun Command from what it used to be in the past to a world-class corporate office today. It is also to her ingenuity that the Command wears a new and befitting look from the gate to the reception, conference room and even up to the parade ground.
Now, in Ondo/Ekiti Command, she is still making the Service proud.
Her current working tour, important meetings and visits to relevant Agencies, to promote operational synergy is captured in photo news as shown below :Meeting with security Heads at Nigerian Army Cantonment in Akure: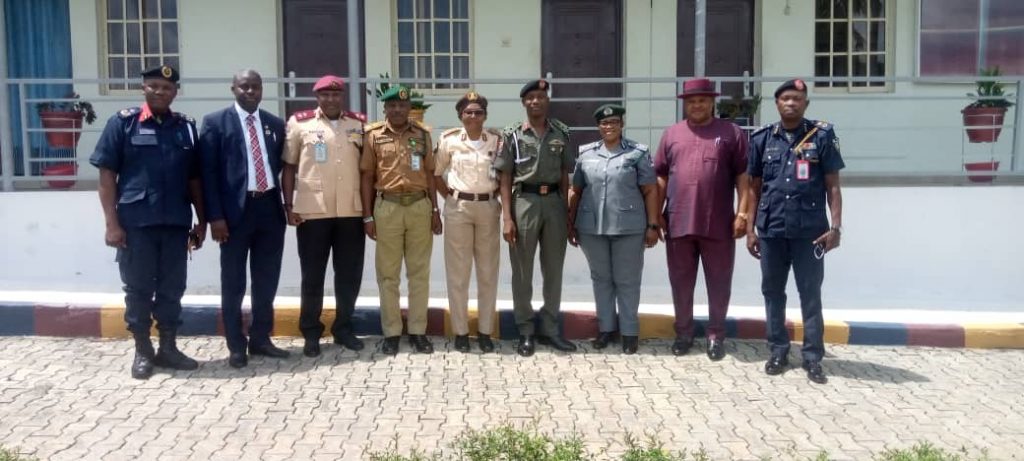 Meeting with Heads of security agencies
Visit to Immigration office in Akure :
Courtesy Visit to DSS office :
Working visit to NDLEA in Akure :
Visit to Nigerian Army :
Courtesy Visit to Ondo State Police Commissioner :
Meeting with Security Heads
Subscribe to our newsletter!
Subscribe to our newsletter!
Subscribe to our newsletter!
Subscribe to our newsletter!
Meeting with Heads of security Agencies :
About Post Author