Again: Customs in Katsina State makes mind boggling seizures
*Intercepts contraband worth over N82.5 million in one month
Petrol, fertilizer, vehicles, rice on list of items
(Report by Udeme Clement)
The Customs Area Controller (CAC), of Katsina State Command, of Nigeria Customs Service (NCS), DC Dalha Wada Chedi,
and his men have made mind boggling seizures of prohibited items worth over N82.5million in monetary value.
The CAC made this known during a press conference in Katsina State, stressed that illicit trade is detrimental to economic growth and must be tackled in all ramifications.
Most remarkable is the fact that the CAC and his team made this anti-smuggling feat in just one month, from 4th June to 6th July, 2021.
The Items seized include 100 bags of fertilizer; 233 jerrycans of Premium Motor Spirit (PMS), commonly known as Petrol; 36 Jerrycans of automotive gas oil and 109 cartons of foreign spaghetti.
Others are 155 cartons of foreign macaroni; cartons of sugar; foreign smuggled rice; 42 bags of tiger nuts; two sacks of groundnuts; 13 jerrycans of vegetable oil; 12 bags of animal feeds; cartons of foreign couscous; used tricycle and other items. The Duty Paid Value (DPV) of the items is N11.5million.
The team also seized 15 vehicles that are currently being detained at the Command. These include Lexus, Toyota Camry; Mercedes Benz (4 matic DAF truck, among other vehicles. The DPV for detained vehicles is N70.9million, making grand total of N82.48million (approximately N82.5million), as shown above.
This achievement is coming only few weeks after the same Command under the supervision of DC Wada, showcased contraband items worth millions of Naira Intercepted through credible intelligence in the month of May, 2021.
Recall that the same Command also Intercepted smuggled petrol and other prohibited items with DPV of N50.4million, from April 19, 2021 to May 4, 2021
In deed, Wada, who is known as a competent enforcement officer of the Service, is making things extremely difficult for smugglers in Katsina State.
Through his expertise and experience, he has raised the tempo of anti-smuggling operations in the State, to prevent economic saboteurs from bringing offensive items into the economic environment.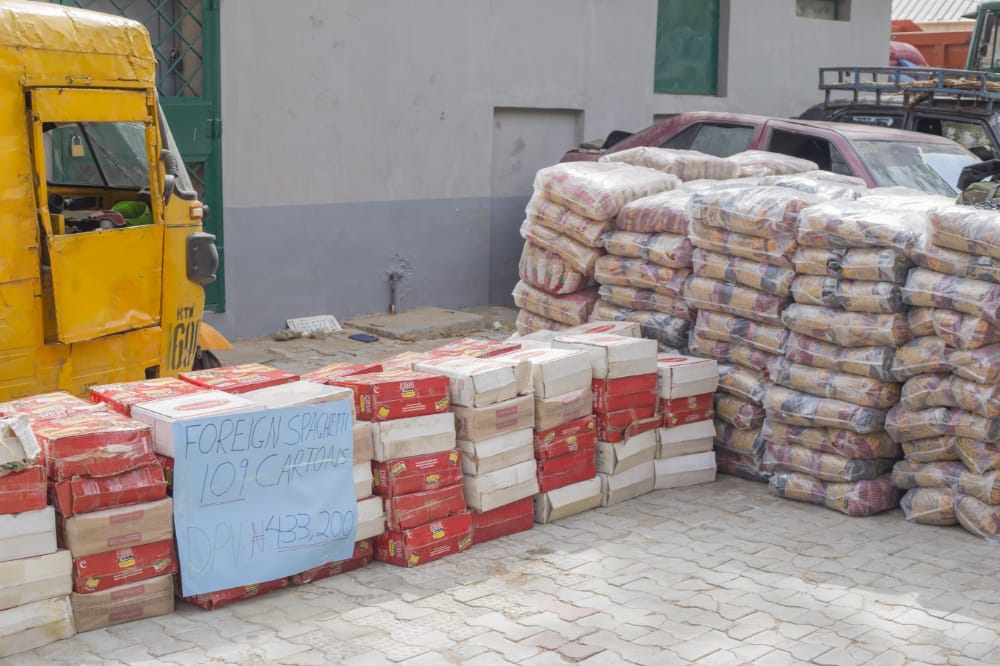 seized items
About Post Author