NIMASA's Deep Blue Project : The leadership lesson for Nigeria
*Dr Bashir Jamoh, a technocrat in action
(Weekend Analysis by Udeme Clement)
Dr Bashir Jamoh … A technocrat in action:
Apparently, the launch of NIMASA's Deep Blue Project by President Muhammadu Buhari in Lagos few days ago was indeed a huge success, not only for the Maritime industry but Nigeria's economy at large.
That epoch-making event will linger for long in the minds of stakeholders.
But there is a great leadership lesson that Nigeria as a country must learn from NIMASA's success story under the watch of Dr Bashir Jamoh, as Director General, in the last one year in office.
The lesson is ; Government Agencies should be manned by technocrats, who have the expertise and and skills to rejuvenate such organisations for greater economic prosperity.
The case of Dr Jamoh is a clear demonstration of a technocrat in action.
In fact, Jamoh's first year in office can be described as one year of Iconic leadership.
As a technocrat and seasoned administrator, he brought fresh impetus to bear in running NIMASA.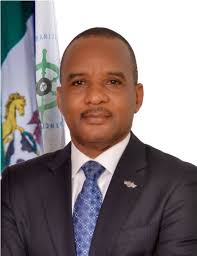 Dr Jamoh ….His managerial competence:
As he sits atop NIMASA as the number one Man, his managerial competence can be seen on his laudable achievements
By dinct of hard work and resilience, Dr Jamoh has made remarkable achievements in just one year in office.
His ingenuity and assiduousness stand him out him as a guru in maritime operations.
His outstanding performance has made maritime stakeholders and the entire Nigerian nation proud.
Thus, it is on record that under Dr Jamoh, international community acknowledged NIMASA's efforts in curbing robbery at sea. Jamoh also maintains strong working synergy with Nigerian Navy and other relevant agencies, even as he collaborates with international organisations to address challenges in the system, especially on safety at sea.
For instance, it is to his credit that NIMASA now has Maritime Intelligence Unit (MIU).
The launch of Deep Blue Project, which Dr Jamoh in his speech described as a mission accomplished is his most spectacular feat in office.
More so, the deep blue project will bring tremendous economic benefits to the maritime industry and Nigeria's economy in the long-run.
Jamoh … A visionary leader:
Recall that when Dr Jamoh came on board as NIMASA boss, he unveiled what can be described as a 3-Point- Agenda, anchored on
Triple-S as; Maritime Security, Maritime Safety and Shipping Development.
So, he had a clear vision on what to do as NIMASA DG.
Therefore, with outstanding performance in maritime security, which is paramount in seaborne trading, shipping and other maritime operations, one can rightly conclude that NIMASA under Dr Jamoh is on the right trajectory.
NIMASA DG:
Maritime sector development on his mind:
Another interesting thing about Dr Jamoh is his appearance.
Our Correspondent observes that everywhere he goes, even on photographs, NIMASA DG looks straight ahead, well coordinated and very focused. This special kind of look shows that maritime sector development is always on his mind !
Even his gesture at official functions portrays him as a competent administrator with maritime industry development in his leadership lexicon.
Deep Blue Project:
The Deep Blue Project comprises of two Special Mission Vessels, three Special Mission Helicopters, four Unmanned Air Vehicles/ Drones, 16 Fast Moving Interceptor Boats, 17 Armoured Vehicles, Over 300 Specially Trained Personnel for the Maritime Security Unit and the C4i Centre.
Jamoh … His rising profile:
Dr Jamoh has served NIMASA in various capacities. He has over 29 years of public service experience. He served in Kaduna State Government before transferring his services to the then National Maritime Authority (NMA) in 1994.
Jamoh was until this appointment the Executive Director, Finance & Administration in NIMASA. Prior to that, he was the Assistant Director in NIMASA in charge of Training and Development. He served not only in executive management, but also in the operations and administrative departments in NIMASA at the management level and brings this knowledge to bear on his new assignment.
Dr. Jamoh holds a Ph.D in Logistics and Transport Management from the University of Port Harcourt, a Master's degree in Management from the Korea Maritime and Ocean University in South Korea, an Advanced Diploma in Management from the Bayero University Kano, a Professional Certificate in Materials Management from the Institute of Logistics in the UK and a Diploma in Accounting from the Ahmadu Bello University Zaria.
He has attended management courses at the Said Business School, Oxford University, UK as well as the Institute of Public Partnerships in Washington DC, USA. Dr. Jamoh also holds membership of several professional Associations including the Chartered Institute of Transport and Logistics, Chartered Institute of Administration of Nigeria and Institute of Maritime Economists (Canada).
.
   .
About Post Author