Outstanding performance:Western Marine Customs seizes N694.5million Cannabis on high sea
Arrests 6 suspects
Comptroller Peters has saved Nigeria's image, integrity – Says NDLEA official
(Report by Udeme Clement):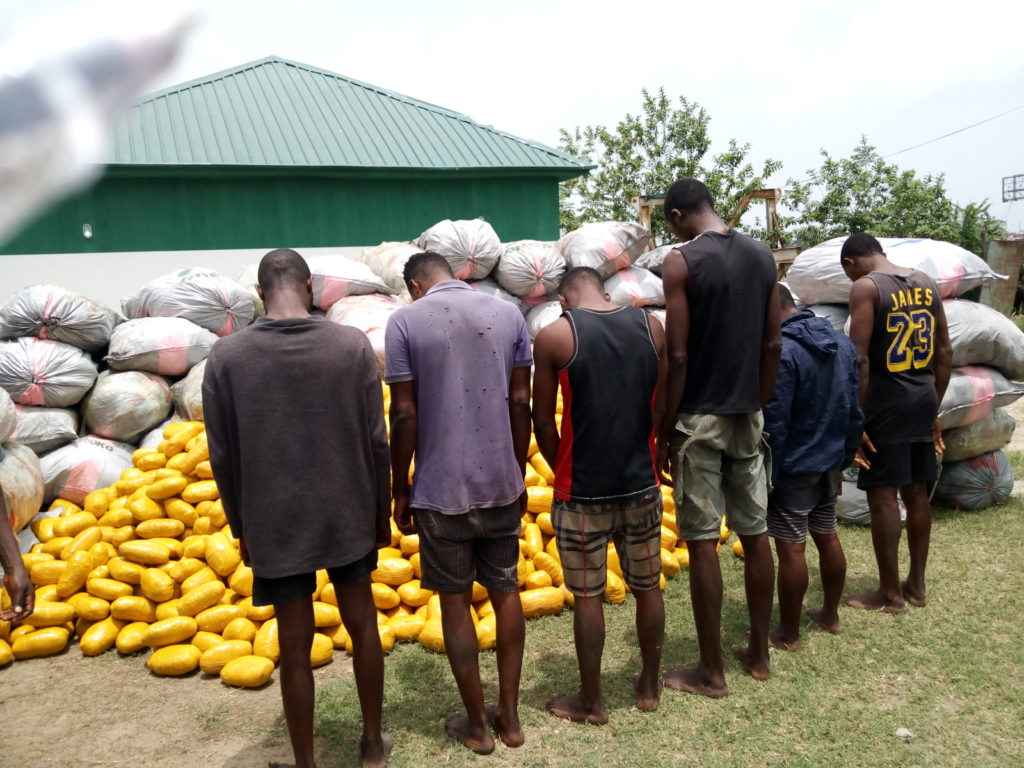 The Western Marine Command (WMC) of Customs has made the entire Nigerian nation and the Service proud with outstanding performance in anti-smuggling feats on waterways, as well as the creeks within its area of coverage.
The Command through credit intelligence intercepted Cannabis Sativa (Marijuana) worth over N694.5million on high sea, fully loaded in big boats. The Marine Officers swiftly arrested six suspects along with the hard drugs.
The Customs Area Controller (CAC) of the Command, Comptroller Olugboyega Peters, formally handed over the seized drugs and six suspects to National Drugs Law Enforcement Agency (NDLEA), Commander of Apapa, Mr. Samuel Bashir, yesterday, after a press conference.
Comptroller Peters, who displayed the large quantities of seized drugs before Journalists, also paraded the suspects.
The CAC disclosed :
"On Saturday March 27, 2021; our operatives of Coastal and Harbour Patrol (Bar-Beach) on credible intelligence along Ibeche Beach on the high sea intercepted two boats loaded with sacks suspected to contain Marijuana, along with the suspects.
" The items, as well as six suspects were brought to WMC. Upon physical examination, we found 147 sacks of Marijuana with an average of 45Kg per sack, giving an estimated total of 6,615Kg. The value of the Marijuana is N694.5million.
"The Western Marine Command has several collaborations with NDLEA Director, Seaport Operations. It is in view of the continuous synergy and its statutory responsibility that we are handing over the marijuana together with six suspects to the representative of NDLEA, in the interest of National Security.
"It is pertinent to know that the task of making our society free from drugs abuse and drugs related substances is a collective one, all hands must be on deck to make our society free from such menace. You can imagine the havoc, terrorism, banditry, rape and other crimes, marijuana of this magnitude may cause in our society, if this seizure has not been made by our operatives.
"Let me warn the unscrupulous elements to desist from smuggling and look for a legitimate means of livelihood. The operatives of WMC are always combat-ready to bring smuggling to its barest minimal. No amount of distraction will deter us from enforcing the policies of Federal Government. We will remain resolute and undaunted at all times.
"I urge the NDLEA to invite us during the destruction of this marijuana and a copy of certificate of destruction be issued to Nigeria Customs for statistical and record keeping purposes."
Recall that the same Command under the leadership of Comptroller Peters, last year
made massive seizure of over 10 tons of Cannabis Sativa on high sea, valued at over N1.2billion.
In fact, that spectacular seizure of N1.2billion Marijuana by Comptroller Peters and his men in 2020, remains the largest single seizure of hard drugs ever made by any Command on high sea, in the history of Nigeria Customs Service. That impressive performance by WMC attracted attention of the whole country and United Nations Office on Drugs and Crime (UNODC),
even as the Comptroller-General of Customs- CGC Hameed Ali, honoured the Officers involved with commendation letters for their hard work and resilience.
In the same vein, the Command in first quarter of 2021, made a total of 12 seizures ranging from Rice, marijuana, Second- hand clothings and smuggled petrol; with a total Duty Paid Value (DPV) of N720.5million.
In his remarks, the NDLEA Commander of Apapa, Mr Bashir, expressed great pleasure on the doggedness of Customs Officers who intercepted the drugs on sea, even at the risk of their own lives.
His words: "I thank the Western Marine Officers for their hard work and dedication.
With this seizure of Cannabis Sativa, Comptroller Peters and his Officers have saved the image and integrity of Nigeria as a nation. This is because Nigeria is a transit area, some of these drugs are coming from Ghana and can easily enter another country. For instance, the plant you are looking at is cultivated in Ghana and it is even more potent than what you see in Nigeria.
"I also thank the Customs for building a good working synergy with NDLEA. The media also has a role to play in enlightening the Public on the dangers of taking hard drugs. We must all be partners in protecting the integrity of our nation."
On the whole, the NDLEA Commander and his team carried out a practical test on the Cannabis before Journalists.