Idiroko border: The good, bad and ugly !!!
* Mind boggling seizures of dangerous drugs by Ogun Customs in photo news
(News Analysis by Udeme Clement):
Idiroko, the border between Nigeria and Benin Republic is one of the most volatile areas in Nigeria.
Idiroko border can be described as a place for good, bad and ugly !
THE GOOD :
The good thing about Idiroko is that, it is a border region meant to promote legitimate trade between Nigeria and Benin Republic, such that both countries derive tremendous economic benefits from trans-shipment, as well as trans-border trade obtainable at every border point.
In reality, the border ought to enhance revenue generation and job creation for both countries.
THE BAD :
The bad aspect of Idiroko border is that,
it is becoming a very hostile operating ambience for security agencies, especially Customs curbing illicit trade to enforce government policies on industrial development.
Ironically, Idiroko border is now a hot spot for smuggling, instead of legitimate trade.
THE UGLY :
The ugly trend at Idiroko border is that Customs operatives are often attacked and even killed while carrying out their statutory functions by smugglers, who see them as threat to their nefarious activities.
For instance, in December 2020 alone, about five Customs officers were killed at Idiroko border communities of Ogun State by smugglers.
Thus, Idiroko has one border but many exits, as smugglers have created illegal routes through the communities, bush paths and the surrounding forests, in order to convey prohibited items into the country,
Our investigations revealed that some illicit traders even smuggle contraband through the creeks at night. Also, the porous nature of Idiroko border has paved the way for proliferation of illegal routes for smuggling.
Not even appeals and sensitisation programmes by Customs to discourage this illegality have touched the minds of these die-hard smugglers, as they are still unrepentant, even inventing new tactics to sabotage the nation's economy.
FIELD OBSERVATION :
Our Correspondent during a visit to Idiroko axis gathered that, there are communities within Owode, Ajilete and other areas close to the border where smuggling is seen as a birthright.
CUSTOMS INTERVENTION/SEIZURES :
Interestingly, the operatives of Nigeria Customs Service, Ogun -1 Command have been working assiduously to curtail this ugly trend of illicit trade within Idiroko communities through their anti-smuggling operations.
Often, these officers use superior Intelligence to defeat smugglers. They are carrying out information patrol within the communities and up to the creeks. Not even incessant attacks by the dare-devil smugglers have deterred them from protecting the economic environment from influx of contraband.
This can be seen in the handing over of Cannabis Sativa with street value of N213.6million ; and Tramadol Capsules worth N20.5million, making a total of
N234.5million to appropriate agencies for investigation.
Also, the Customs Area Controller (CAC), of the Command, Comptroller Peter Kolo,
Showcased 143 seizures of various prohibited items recorded by his team in the month of February, 2021, with Duty Paid Value (DPV) of N77.5million.
Our Correspondent captured the seizures in photo news, as shown below.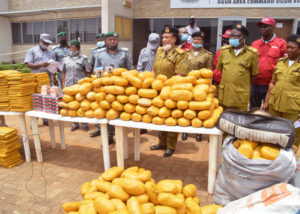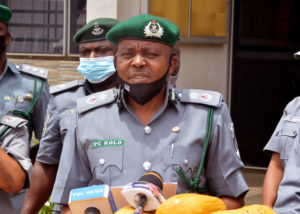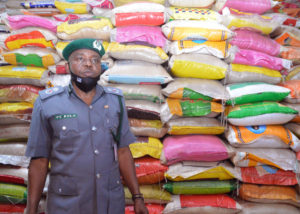 About Post Author