Again: Ogun Customs makes outstanding performance
* Hands over N234.5million hard drugs
* Records N77.5million seizures in
February 2021
(Report by Udeme Clement):
Just five weeks after Ogun – I Area Command of Nigeria Customs Service, showcased mind boggling seizures worth millions of naira, the Command has again recorded outstanding performance in its anti-smuggling drive.
The Command under the watch of Comptroller Peter Kolo, as the Customs Area Controller (CAC), handed over
3,165 wraps (Coconut and book size and 290 sacks (raw) of Cannabis Sativa, otherwise known as Marijuana with street value of N213.6million,
41 packets Tramadol Capsules (225mg and 120mg) with duty paid value of N20.5million, making total DPV of
N234.5million to appropriate agencies for thorough investigation.
That was not all.
Comptroller Kolo and his officers made 143 seizures of various prohibited items in the month of February, 2021, with a combined DPV of
N77.5million.
Comptroller Kolo disclosed these details during a press conference at Idiroko today.
The items he displayed
included Imported foreign rice (50kg) – 5,931 bags; Premium motor spirit (petrol in 25 Litre Kegs – 562 Kegs;
Frozen poultry products – 3,315 cartons;
Vegetable oil (25 litres per keg);– 5kgs;
Cannabis Sativa– 34 pkgs;
used vehicles (means of conveyance) – 19 units; Motor cycle (means of conveyance) – 1 unit; Sugar (50kg per bags) – 2 bags.
His assertions :
"Also, a total of N3.1million was realised as fees from sales of seized petroleum product and auctioning of some scrap metals.
"There are no duties collected on imports of goods, as the land borders in Ogun state still remain closed.
"Despite series of attacks by the dare devil smugglers/hoodlums during our course of duty, the Command will not be distracted from executing its mandates."
He pointed out:
"The handover of these illicit drugs is part of our effort in collaborating with NDLEA in riding the country, particularly Ogun state of illicit drugs and harmful substances.
"The significance of today's event is that we have rid the Ogun communities of drugs that most probably influence incessant attacks on Customs, other security agencies and innocent citizens of the state.
"May I use this opportunity to once again call on traditional rulers and community leaders to educate the youths against the dangers of smuggling, particularly smuggling of harmful drugs and consumption of same."
He warned:
"To this end, anyone caught disrupting our officers on the line of duty, or perpetuating nefarious activities of smuggling shall be made to face the wrath of law."
Speaking further, Comptroller Kolo expressed his unalloyed gratitude to other security agencies, Community Leaders, and Youth leaders showing concern and are collaborating with the Service in the fight against smuggling.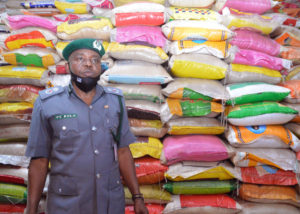 About Post Author