Apapa perennial gridlock:
Beyond NPA E-call-up system
* Shippers' Council failing in its regulatory functions – Port User alleges
(Report by Udeme Clement):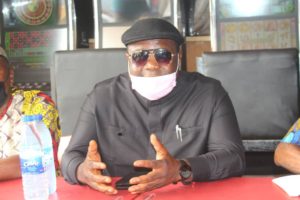 To say that the perennial traffic gridlock on Apapa ports access roads is beyond the Electronic call- up system initiated by Nigerian Ports Authority (NPA), is stating the obvious.
The reason being that, the system, which started on February 27, 2021, is already collapsing, as traffic gridlock has completely returned to Apapa ports access roads.
The E-call-up system, which port users and freight forwarders thought would bring respite to perennial gridlock taking its toll on businesses at Apapa axis is facing a serious setback, only few days after its commencement.
Our Correspondent, who monitored activities on ports access roads yesterday, observed that trucks have returned to the roads, causing heavy traffic everywhere.
For instance, from Ijora axis up to Area- B was totally blocked. From Ijora down the bridge, the same thing.
Wharf road was equally heavy, but towards the side of Wharf gate the traffic was under control.
The traffic situation at TinCan Port corridor was even worse than what was witnessed at Ijora bridge, as the road linking TinCan first-gate to Coconut bus stop, Trinity and up to Berger-yard was a no-go area.
In fact, as at yesterday, opreators of motorcycles (popularly known as Okada riders), charged as high as N600 per person from TinCan second-gate to Mile-2 bridge, a distance of not more than N200 in a commercial bus.
During the exercise, our Correspondent also observed that there are other dimensions to chaotic traffic along ports access roads, as it is becoming a money making business for some individuals.
For instance, aside from traffic managers officially assigned by government to control the gridlock, miscreants were also seen stopping truck drivers and collecting money from them.
While some of the miscreants were seen carrying long sticks, others carried objects like iron-rods and used water-pipes.
In a chat with our Correspondent, the Managing Director and CEO of MacManuel Global Logistics, Mr Emeka Enwelu, commended NPA for introducing the E-call up system.
According to him, though the system is suffering a setback, the Authority had good intentions.
His words:
"NPA has tried but the Authority is overwhelmed. The gridlock on port access roads is not something only NPA can handle'.
He alleged that Nigerian Shippers' Council (NSC), is not doing enough in regulating activities of shipping companies in Nigeria.
Mr Enwelu, who is also a Licensed Customs Agent and Port User, said, "Some shipping companies claimed to have holding bays. What stops Shippers' Council from going to inspect such facilities, to ascertain the truth.
"Why has Shippers Council not gone to see if the holding bays they have are functional with enough capacity?
"NSC must wake up to its responsibility and should not leave everything to NPA.
"Also, let the Council come up with sanctions for shipping firms and terminal operators not complying with the rules of engagement.
This is the only way we can restore sanity in the system".
About Post Author