Caught by the Eagle's Eye !!!
* Comptroller Kolo, his team at Idiroko creeks
( Analysis by Udeme Clement):
Look at the image above, it speaks volumes. It depicts intelligence, astuteness and ingenuity.
This image was caught by the Eagle's Eye.
Yes, the Eagle's Eye of Comptroller Peter Kolo and his enforcement officers, with extraordinary visual sharpness capable of looking forward, backward and sideward simultaneously without losing focus, just like the Eagle when targeting an object.
Looking at this image with ordinary human eye, one can only see a security vehicle for top government functionaries on duty. But the Eagle's Eye of Comptroller Kolo and his men revealed the antics of smugglers using a vehicle mounted with Siren devices to convey contraband at Idiroko axis, the border between Nigeria and Benin Republic.
Who would ever imagine that illicit traders could use such tactics to smuggle prohibited items into the country?
Well, sadly, this is the level of economic sabotage perpetrated by smugglers working against the policy of government in rejuvenating the nation's economy to improve the standard of living.
Our Correspondent gathered that
these dare-devil smugglers devise all means to carry out illegal act for personal gains, to the detriment of local Industries and the economy at large.
The turning point is, most times these unrepentant smugglers meet a brick wall, as they are often defeated by Customs officers operating with superior Intelligence.
Just like the Eagle's Eye, Customs officers are well trained with superb vision to uncover smugglers tactics and all manners of concealments, even items hidden inside car engines and the body compartments.
To Comptroller Kolo and his team, there is no hiding place for economic saboteurs at Idiroko border, not even at the creeks where many of them operate from at night.
More so, scientific research over the years has shown that the Eagle's Eye is among the strongest in entire animal kingdom. Its visual alertness is extraordinary, with an eyesight estimated to be eight times stronger than that of an average human. This is exactly how the Eagle's Eye of Customs operatives work at Idiroko border. Not even the volatile operating ambience has deterred them from chasing smugglers day and night.
Another unique feature of the Eagle's Eye is its monocular and binocular visual organ, which allows the Bird to use its eye independently, or together depending on the object in focus.
These foveae allow the Eagle to look straight ahead and to the side simultaneously without losing focus.
Also, both foveae enable the Eagle to view objects at a long distance. Similarly, the Ogun-1 Command, under the watch of Comptroller Kolo, as the Customs Area Controller (CAC), is carrying out 24 hours patrol surveillance around Idiroko border community, to ensure that no stone is left unturned in curbing illicit trade.
Their hard work and doggedness have yielded positive results, as the Command made seizures worth over N113.8 million in Duty Paid Value (DPV), in January 2021 alone, and more are still on the way.
In fact, all the eyes nature has ever made, those of the Eagle with large, hooked beak, pale yellow iris and powerful talons are the most extraordinary, as seen on picture, just like the Eagle's Eye of Ogun-1 Customs is roving at all directions to thwart illegal activities of smugglers.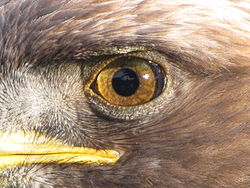 About Post Author