Working visit : MAJAN President, Ray Ugochukwu meets Apapa Customs boss
* Says traffic logjam on ports access roads impeding Customs operations, revenue collection
(Report by Udeme Clement):
The President, Maritime Journalists Association of Nigeria (MAJAN), Comrade Ray Ugochukwu, has said that the traffic logjam on Apapa ports access roads has negative effect on Customs operations at Apapa, TinCan and other Commands.
He made this known during a working visit to the new Customs Area Controller (CAC), of Apapa Area Command, Comptroller Malanta Yusuf, who took over recently from Mohammed Abba-kura, now ACG Customs headquarters.
Speaking further, the MAJAN President stressed that traffic gridlock at Apapa roads is equally affecting revenue collection for the Federal Government.
Ugochukwu also informed the Customs boss of the initiative by MAJAN to hold a national maritime summit on Apapa traffic gridlock, by March, 2021.
He said, "Welcome to Apapa Command. Let me use this opportunity to intimate you of our national summit on Apapa traffic crisis coming up in March.
"The summit will assemble government officials, regulatory agencies, terminal operators, freight forwarders and relevant stakeholders in the maritime industry, to deliberate and proffer lasting solution to the perennial gridlock on ports access roads, taking its toll on businesses.
"MAJAN as a group is doing a lot on enlightenment Programmes in the sector. In the last two months, we have organised three different programmes. The first one, we invited port users to talk about Apapa traffic, we organised another event on investigative Journalism and only last week, we had a roundtable chat on African Continental Free Trade Agreement (AfCFTA) and the readiness of maritime stakeholders to key into this concept.
"As maritime Journalists, we are concerned about growth of the sector. We believe our humble contributions will make positive impact in rejuvenating the sector for greater development".
In his response, the CAC said Apapa Command as the premier port would remain focused on trade facilitation, revenue collection for government and other core functions of the Service.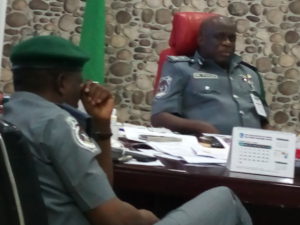 About Post Author