Ogun Customs Uncovers new trend of smuggling with vehicles using siren devices
* As Comptroller Kolo, his team are chasing smugglers at Idiroko creeks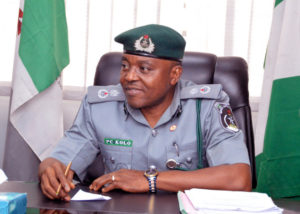 (Report by Udeme Clement):
Apparently, the activities of smugglers at Idiroko axis, the border between Nigeria and Benin Republic can be described as robbing government to pay economic saboteurs.
The reason being that, as government is putting measures in place to rejuvenate local industries, in order to stimulate economic growth and create jobs for the citizens, smugglers on the other hand are working against such policies through illicit trade. As such, robbing government of the revenue that ought to be used in building infrastructure across the country.
Our investigations revealed that Idiroko is a very volatile terrain, when it comes to illicit trade. This particular border community is where die-hard smugglers operate. They have mastered the act of smuggling through the forest, creeks and waterways. Some of them even use vehicles fabricated with extra-iron carriers to convey contraband through bush paths.
In fact, their antics in illicit trade have no limit. Most worrisome is their barbaric act of attacking and killing Customs officers carrying out statutory functions.
It is common knowledge to hear reports of incessant attacks on Customs officers by smugglers, all in a bid to shortchange government.
The good news is that the Customs Area Controller (CAC), Ogun -1 Command of Nigeria Customs Service, Comptroller Peter C. Kolo, is giving smugglers tough time at Idiroko border. Kolo and his team of highly experienced officers are working assiduously to thwart illicit trade in all ramifications.
The officers are using credible intelligence to defeat these enemies of the State. They are well-coordinated and always several steps ahead of smugglers. This can be seen in massive seizures worth over N113.8million made by the Command in January 2021 alone, despite attacks by smugglers and their syndicates. The Command also recorded seizures worth over N2.2billion from January to December 2020, making a total of N2.3billion.
Expressing strong displeasure on activities of economic saboteurs at Idiroko border, Comptroller Kolo said, "We have uncovered different techniques of smuggling through unapproved routes. For instance, creating extra-compartments in vehicles to carry contraband; smuggling through creeks, as they create separate locations on waterways to bring it prohibited items at night; the use of motorcycles to smuggle through the bush, among other means.
"Most recently, we uncovered another method of smuggling with vehicles using siren devices to make it look like security officials on duty, or emergency situations, all in a bid to escape security checks.
"But the reality is that we are well trained and equipped for the job.
"We use intelligence and our eagle –eye to uncover hidden locations. I am a product of intelligence and I often transfer intelligence into action. We are taking anti-smuggling war to the creeks".
About incessant attacks on his officers, the CAC said, "In December 2020 alone, we lost five officers to smugglers attack. However, I used that December to embark on aggressive stakeholders' engagement. I visited traditional rulers at Yewa North and Southern parts of the State, including the traditional ruler of Egba-land.
"During the working visit to traditional rulers in various communities within the State, we sought their support in combating smuggling. We urged them to educate their subjects on the menace of smuggling and stop incessant attacks on security operatives discharging their statutory duties, as such will no longer be tolerated".
Comptroller Kolo, pointed out, "My advice to the public is, whenever there is conflict between Customs and smugglers, the public should stop showing sympathy to illicit traders destroying our economy, rather, let us assess the damage smugglers are doing to our economy".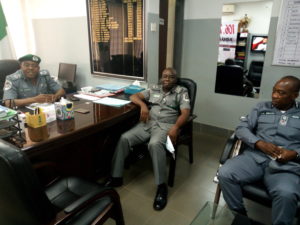 About Post Author