Eastern Zone :
ANLCA on the path of another historic election
Says Eastern ports can create over 20,000 jobs if…
(Report by Udeme Clement):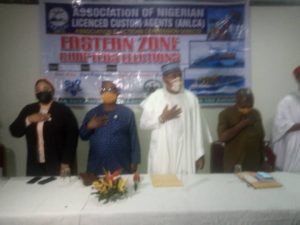 Apparently, the Association of Nigeria Licensed Customs Agents (ANLCA), is on the path of another historic election.
The reason being that, at the moment, ANLCA is conducting another online elections into various chapters in the Eastern Zone, comprising of Portharcourt Port Chapter/Portharcourt International Airport, Onne Port Chapter, Warri Chapter, Calabar Chapter and Enugu Chapter.
The exercise is on-going now in Port Harcourt.
In his opening remarks, the National President of this great Association, Hon Iju Tony Nwabunike, enthused; "Today's event will be a milestone in our efforts at making ANLCA a group of credible professionals, who uphold the tenets of true democracy and representative leadership by popular demand.
"As the government and maritime business communnity explore possibilities of decongesting Lagos ports and create emerging ports in Lekki, Badagry, Ibaka, and others, the existing Eastern Ports are the low hanging fruits to actualise alternatives to Lagos."
He urged, "I want to task you to enhance your capacities to handle higher volume of cargoes and prove your capacity in contributing to non-oil revenue source for Nigerian government.
"I recall that last year, the Nigerian Ports Authority (NPA), Onne Port complex successfully berthed one of the biggest gearless Maerskline vessel with capacity of 9,971 TEUs at the Federal Ocean Terminal (FOT), Onne .
"This shows the capacity of ports in this part of the country to take higher volume of trade. As Customs brokers, I know we are ready on our part. In reality , we have become ready ahead of the government".
Hon Nwabunike informed; "Our Strategic Research and Planning unit of ANLCA headquarters have discovered that not less than 20,000 direct and indirect jobs will be provided in the South South and South East regions of the country if these ports are maximally utilised.
"As you all know, the terminal with the highest capacity of cargo handling machines in this country is in Onne, at the West African Container Terminal (WACT) . It had value of US$2.5 million added to existing equipment as at two years ago.
"I am convinced that states with viable ports and strong maritime economic background have no business with poverty. I hereby enjoin the Federal and state governments ( especially the ones where ports are already situated) to consult our expert inputs on how best to utilise their maritime assets for increased productivity."
About Post Author