ANLCA Eastern elections:
Mike Ebeatu emerges Chairman of Onne chapter
*As Hon Nwabunike urges members to embrace new investment opportunities in AfCFTA
(By Udeme Clement ):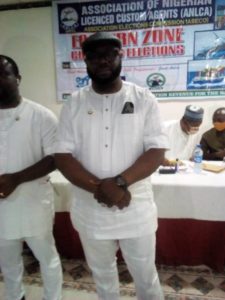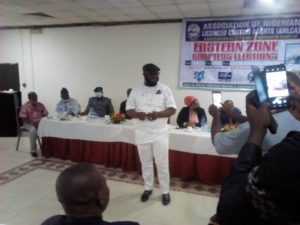 The news reaching our platform reveals that Mike Ebeatu has emerged the Chairman, Onne chapter,
Association of Nigeria Licensed Customs Agents (ANLCA).
Our Correspondent gathered that, Mr. Ebeatu was elected into Onne chapter Chairmanship position strictly on merit.
It was observed that the election, which followed an online voting pattern was highly transparent, as other participants expressed satisfaction on the entire process.
In the same vein, Mrs Chinyere Celestina Okere, emerged the Chairperson of Oil & Gas chapter of ANLCA.
Our investigation reveals that Onne and Oil/ Gas chapters were initially under the same unit, but were recently split following the creation of a new Customs Command in charge of Oil & Gas.
Speaking, the National President of ANLCA, Hon Iju Tony Nwabunike, advised elected officials, as well as other members of the Association to embrace new opportunities in maritime trade, especially in African Continental Free Trade Area (AfCFTA) agreement, in order to stay afloat in business.
Hon Nwabunike asserted, "The position of our Eastern ports and chapters hold strategic interface opportunities with proximate Central African countries like Cameroun, Sao Tome and Principe, Gabon, Equitorial Guinea, Angola , Central African Republic(CAR) and Democratic Republic of Congo(DRC).
It has become imperative that you get ready to trade with these countries taking advantage of the window of opportunities to be provided by AfCFTA. Let's look beyond handling import cargoes alone, because Nigeria will be eyeing exports of agricultural produce to some of these countries too.
"According to 2020 world bank publication, AfCFTA will create the largest free trade area in the world measured by the number of countries participating. The agreement brings together 1.3 billion people across 55 countries with a combined gross domestic product (GDP) valued at US$3.4 trillion..
"We as Customs Brokers, have roles to play in deepening intra-African trade and ensuring seamless cargo movement within and outside our continent. Therefore, I urge you all to approach this emerging basket of opportunities with optimism and positive minds towards making the best of it.
"While you sharpen your ICT capacities for trade purpose, I also urge us to embrace the learning of international languages like French, Mandarin (Chinese) Arabic and other means of international communication for business transactions .
"Don't forget that our profession brings us in sync with national economy, security and social well being of all Nigerians. For this reasons, I urge you all to raise your degree of compliance, continue to avoid anything unlawful and promote International best practice in all you do."
About Post Author