Hon Iju Tony Nwabunike: The Face of Courage  !!! *The Man, His Leadership Disposition and Rising Profile
Hon Iju Tony Nwabunike: The Face of Courage  !!!
*The Man, His Leadership Disposition and Rising Profile
(Weekend Life: by Udeme Clement):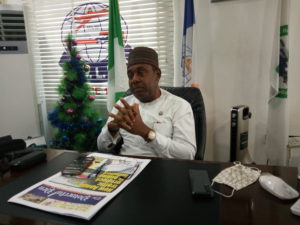 LEADERSHIP DISPOSITION :
To describe the National President, Association of Nigeria Licensed Customs Agents (ANLCA), Hon Iju Tony Nwabunike, as the face of courage is simply stating the obvious.
Yes, he is brave, courageous and uncompromising as a leader.
His excellent leadership qualities are clearly demonstrated in his managerial competence.
He believes a leader must inspire confidence in his followers and remains resolute at all times, irrespective of the challenges embedded in such leadership position.
As such, over two years on the saddle as ANLCA President, Hon Nwabunike, has surmounted many obstacles and proven beyond doubt that leadership requires total commitment and the right ideology to drive the process on the right trajectory.
Not even the crisis instigated by some detractors in ANLCA to destabilise him has derailed his focus in any aspect. He remains determined as ever.
MANAGERIAL COMPETENCE :
For instance, in December 16, 2020, despite the crisis, Hon Nwabunike made history in the maritime industry in Nigeria. He conducted the most credible and outstanding electronic election for ANLCA Board of Trustee (BOT).
The election described as the best in history of maritime took place online simultaneously across Nigeria and diaspora, with prompt announcement of results and swearing in of elected officials.
The classy election and Annual General Meeting (AGM) of ANLCA, which took place in Owerri, Imo State capital, was graced by top members across the country, including the Executive Governor of Imo State, Senator Hope Uzodimma, who came along with his Deputy.
HIS RISING PROFILE :
Aside from being the National President of ANLCA, Hon Nwabunike sits atop Mac-tonnel Nigeria Limited, as the
Managing Director/Chief Executive Officer.
He is a passionate professional. He brought these sterling qualities to bear in Freight Forwarding, Political, Social and Oil sectors. He is versatile in the business of freight forwarding with over 27 years of progressive experience.
He once served as the Secretary General of ANLCA from 1999 – 2004, when he ensured regular monitoring and implementation of necessary corrective measures in operations of the maritime industry. He improved the tenets of professionalism in Freight Forwarding activities at the Nation's Port.
He is a graduate of Business Administration and Management from Institute of Management and Technology (IMT) Enugu State, Bachelor of Science degree in Political Science from University of Nigeria, Nsukka, Bachelor of Science degree in Management from University of Lagos, and various Certificates in Oil/Gas, Logistics, as well as Maritime operations.
He has diversified skills set covering administrative support, client relations, human resource and project management.
With his wealth of experience in the maritime industry, he was able to improve on the operational standard for CUSTOMS ASYCUDA PROJECTS now NCIS  He is multi-faceted, efficient and reliable.
With his excellent communication skills, he was elected into the office as the pioneer Board Chairman, Council for the Regulations of Freight Forwarding in Nigeria (CRFFN), established by Act16 of 2007.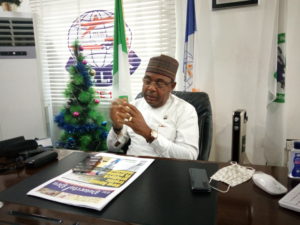 ACCOLADES :
He was awarded the Most Enterprising Shipping Agent in 2002, due to his discipline, diligence, dedication and contributions to the maritime sector.
Best Clearing Agent of the Year -1998 (MARAN). Philanthropic Award Inner Wheel Club-2001. Certificate of Merit Anambra State Development Foundation.
Most Enterprising Shipping Agent (2002).
Patron, Association of Maritime Journalists of Nigeria. AMJON.
PROFESSIONAL COURSES :
Maritime Diploma in National Institute of Shipping "Fellow" "FINS"
Chartered Freight forwarder- Council for the regulation of freight forwarding in Nigeria (CRFFN)
Executive Member – Academy for Entrepreneurial Studies, Nigeria.
PROFESSIONAL MEMBERSHIP
President –Total Eradication of Sharp Practices in Nigeria Ports (T.E.S.P.I.N.P- NGO). Secretary: 1999 Constitutions Review Committee, ANLCA.
MARITIME APPOINTMENTS:
Member of Presidential Committee on Ports ASYCUDA PROJECTS now (NCIS 2)
Member of World Cargo Alliance.
Member of FIATA (International Federation of Freight Forwarders Association) Member, Board of Trustee (BOT), Inland Containers Nigeria Limited (ICNL).
Managing Director/CEO Naipet Energy Limited.
COMPETENCIES :
Excellent interpersonal and communication skills. He has
ability to learn fast and work for long hours. He is dependable, tactical, resourceful, analytical and meticulous. He has self initiative and ability to fulfill any role in a team.
Above all, Hon Nwabunike has a pleasant personality. He is like a book with many chapters, every segment tells a story of success and courage.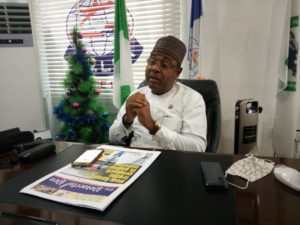 About Post Author