Customs Strike Force Zone 'C' Owerri records N143.6million seizures
* Items include Cannabis Sativa, pharmaceutical products, foreign rice, textile materials, others
(Report by Udeme Clement):
The Customs Strike Force Zone 'C' Owerri, has made mind boggling seizures of prohibited items through its operations.
The Deputy National Publc Relations Officer of Nigeria Customs Service, AC Abubakar Dalhatu, made this known through a press statement.
He said that the Customs Strike Force in Zone 'C' continues to make strategic seizures that have consequences on national security and economy.
According to him, the Strike Force Team leader, Deputy Comptroller Yusuf Musa unveiled the seizures made by his operatives in the zone.
Items seized include 66 sacks of cannabis sativa, weighing 1056 kg, 54 cartons of medicaments, 6 bales of secondhand clothings, 18,640 pieces of wrist watch, 40 bales of wrapper, 8 sacks of children wears, 14 cartons of female slippers, 40 bales of wrapper and 30 bags of foreign parboiled rice (50kg each), with a Duty Paid Value (DPV) of over N143.6million
He informed, "The interceptions were made at various locations within Edo State and environs based on credible intelligence."
He stated, "The stride was made possible due to resilience, commitment and dedication by our Officers and Men, who at the risk of their personal safety, put in their best to ensure that the job is done."
DC Musa expressed the determination of his team to maintain the war against smugglers, no matter the level of threat they pose.
Recall that the Comptroller-General of Customs, CGC Hameed Ali, strategically re-jigged the Strike Force Team across the federation, to strengthen the third layer of Customs security against smuggling. This is basically to block revenue leakages and also to suppress smuggling to its barest minimum.
The Strike Force Coordinator further appreciates the support of CGC Hameed Ali and his Management Team, for their tireless support through effective supervision and provision of necessary logistics.
He also solicits the support of members of the public towards making the nation socially, economically and environmentally viable by ensuring compliance to government fiscal policies.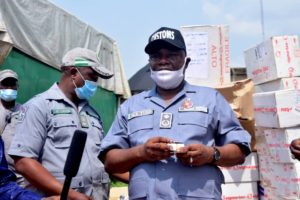 About Post Author